Europe's Car Sales Keep Falling Short of Pre-Pandemic Levels
(Bloomberg) -- For the third month in a row, auto sales in Europe climbed from depressed levels a year ago while coming up well short of where they were pre-pandemic.
New-car registrations jumped 74% in May, the European Automobile Manufacturers' Association said Thursday, helped by an easy comparison to a time when showrooms were closed across the region. While restrictions were still in place in certain markets last month, including France, other countries struggled even as rules were relaxed. Relative to May 2019, sales across Europe were down 25%.
"Underlying demand remains mostly weak," researcher LMC Automotive said in a report earlier this week. Western Europe has showed "uninspiring improvement" while the U.S. has displayed "remarkable strength."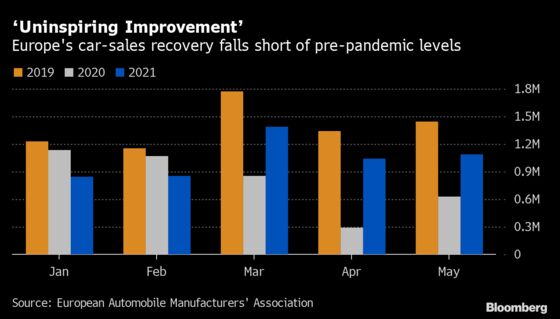 Europe's auto market has been recovering slowly despite improving confidence both among consumers and across sectors. Carmakers have been constrained worldwide by the semiconductor shortage that has constrained virtually every major manufacturer. Ford Motor Co. has scheduled lengthy closures for its two German factories, while Volkswagen AG and Daimler AG are putting workers on government wage-support programs as supply issues snarl assembly lines.
The Stoxx 600 Automobiles & Parts Index ticked up as much as 0.3% shortly after the start of regular trading Thursday. The sector has outperformed this year thanks to a sharp recovery in earnings and optimism about companies shifting to electric vehicles.
In France, where dealers remained under partial lockdown until May 19, sales were up 46% from a year ago but down 27% from May 2019. The easing of rules could bode well for future months, Joe Spak, an analyst at RBC Capital Markets, wrote in a report earlier this month.
Among the largest automakers, European sales rose 94% for VW group, 61% for Stellantis NV and 26% for Renault SA from a year ago. Registrations jumped 96% for BMW AG and 49% for Daimler AG.