Europe Risks Biggest Step to Revive Economy in Pandemic Era
(Bloomberg) -- Paris's train stations welcomed returning commuters, the Swiss rushed out to stock up on coffee and Spaniards could return to outdoor cafes, as Europe ventures its biggest step yet to reopen in the coronavirus era.
Governments across the continent eased restrictions as the spread of the pandemic slows. France made its first significant move by allowing more travel, while shops were reopened in Switzerland and Greece. Barbers resumed in the Netherlands, and Denmark halved distancing requirements.
At the Gare du Nord in the French capital, passengers remained sparse on Monday morning, as volunteers passed out face masks to those who forgot to bring their own. Normally throbbing with harried office workers, channel-hopping business people and overwhelmed tourists, traffic at Europe's busiest rail hub was a fraction of pre-crisis levels. But people were at least moving again.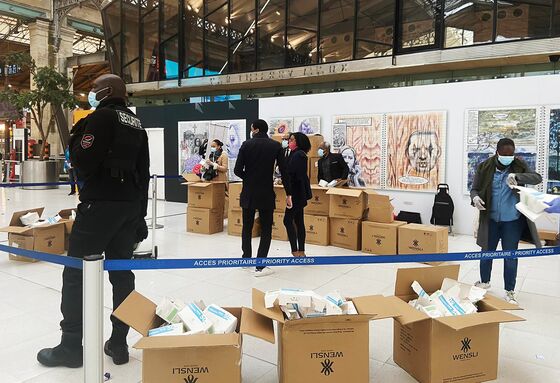 "Transport was fine," said Laura Hattiger after her first commute in weeks from Beauvais to central Paris. She had her working hours reduced by two hours a day in order to allow for travel disruptions. "There weren't that many people."
While governments across the continent are hoping their economies bounce back swiftly, tentative steps to revive activity are likely to herald a tough slog lasting months. After more than 150,000 deaths on the continent -- more than half of the global toll -- European leaders are taking a cautious approach to reactivating public life.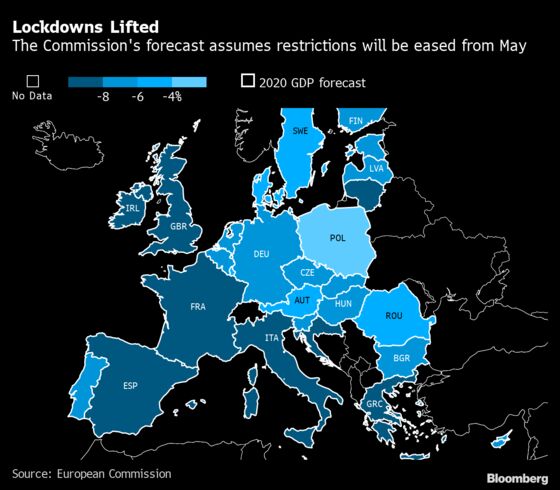 The bleak outlook was underscored by the European Commission's May 6 forecast for an unprecedented 7.4% economic contraction in the European Union this year, the worst recession in its history. Even that dire projection assumes the virus will be kept under control as member states gradually lift lockdowns.
To make matters worse, southern European nations especially hard hit by the outbreak have limited ability to respond due to large piles of public debt. The Commission forecasts slumps in output this year exceeding 9% in Italy, Spain and Greece, compared to a 6.5% decline in Germany.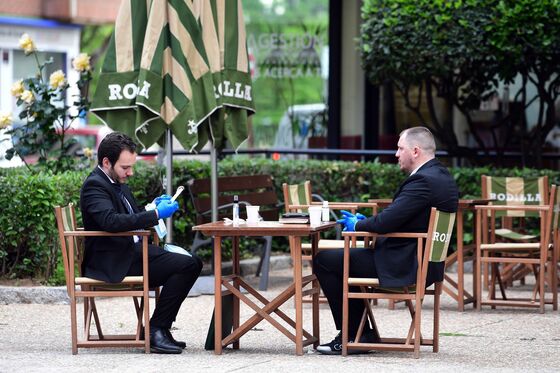 In Spain, 50% of outdoor seating capacity could be used for restaurants and bars in about half of the country, and people could meet with up to 10 others privately. Rules in Madrid and Barcelona remain more restrictive, even as the country with Europe's most extensive outbreak recorded its lowest daily death toll in almost two months.
In Germany, which last week announced plans for a broad restart of Europe's largest economy, a drop in new cases was tempered by a worrying increase in a measure of the speed of the spread, with the so-called reproduction factor rising to 1.13. The country has allowed all shops to reopen and paved the way for restaurants, bars and professional soccer to restart.
Eurostar International Ltd., which operates rail services that traverse the English Channel, just one train a day was running in each direction between London and Paris, despite the looser travel policies as Europe's borders remained largely closed.
At peak commuting time on Monday, automatic ticket booths at Gare du Nord were virtually deserted. On the station's Metro platform, agents easily handled the commuter flows while empty space and seats -- normally a rare commodity -- were available.
Traffic on the French capital's streets was heavier than in recent weeks, but commercial activity remained subdued.
At the Truffaut garden center on Paris's left bank, eight people waited in line for the store to open, spaced out by orange tape markings on the sidewalk. Customers were offered alcohol hand rub at the entrance, while each client was asked to take a shopping trolley that had just been wiped down with disinfectant spray.
In the Opera Garnier shopping district, the Apple Inc. store was closed, and a shop from telecoms service provider Orange SA plans to reopen on Tuesday with appointments only. The famous Galeries Lafayette department store on Boulevard Haussmann remains shut, while at LVMH's Le Bon Marche department store there were signs on nearly every display asking clients not to touch merchandise.
Gloved salespeople pick up handbags to demonstrate features like pockets and straps for clients, and in the beauty department, salespeople wiped down pots of cream with disinfectant before doling out a sample with a disposable spoon. Garments tried on by clients are steamed then isolated for several hours before being returned to the rack.
In Amsterdam, MarNick hair salon owner Nick Schutte was eager to get back to work. A reservation system is now required to avoid lines, and slots are fully booked.
"It's exciting," said Schutte. "We take more time into account to not get too many people inside."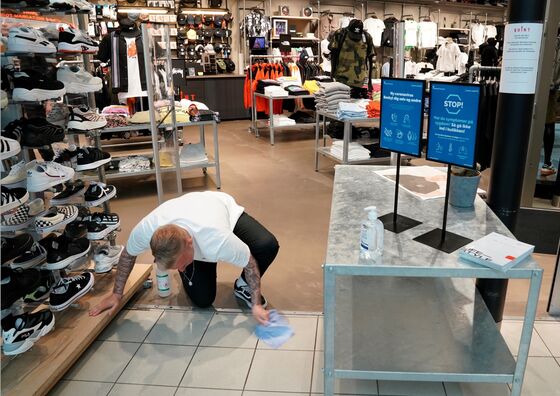 Denmark opened all shops as it enters the second phase of its plan to ease curbs. One of the first countries in Europe to loosen restrictions also cut the physical-distance required between people to 1 meter (3.28 feet) from 2 meters. But Denmark's borders will remain closed, with an update from the government due by June 1 at the latest.
Monday also saw the bulk of retail shops operating again in Greece, but on the main street of Kallithea -- one of the most densely-populated areas of Athens -- people weren't hanging around waiting for them to reopen.
In Geneva, more Swiss shoppers were interested in coffee pods than Swatch watches. A line of five people waited outside the Nespresso shop on the city's main retail strip shortly before opening, and the first two customers walked out carrying large black bags filled with dozens of boxes.
Ilias Tanoudis, manager at the Italian restaurant Osteria della Bottega in Geneva's old town, said he's frustrated with the way Swiss authorities have handled the economic fallout from the virus, giving him little option but to take on loans to survive.
Widder Hotel, a more than 700-year-old property in Zurich's old town, opened on Monday and has received bookings from no more than two guests per week for the rest of the month, a utilization rate of less than 3%.
"Around 85% of our guests come from abroad, and that's gone down to zero now," said Joerg Arnold, general manager of Widder and its sister hotel Storchen, a few steps away by the river Limmat. "The summer will be disastrous for us."
For Mats Klingberg, however, owner of upmarket menswear store Trunk Clothiers with shops in Zurich and London, Monday started well. "We already sold a jacket this morning," he said. "The customer had actually tried it on before the lockdown in March and came back this morning to buy it."
The past weeks proved to be a huge boost to the company's online business, with sales in April up threefold compared with April last year, Klingberg said.
Meanwhile, the manager of a nearby Swatch Group AG store wasn't too optimistic about the restart.
"I don't think we'll have a lot of customers on the first day," said Sylviane de Marchi-Moro, manager of the brand's watch shop in central Geneva. "Maybe some old people coming in to change their batteries."
Europe's Easing Road Map
Italy
May 4: Construction, manufacturing to resume; restaurants allowed to offer limited take-away services
May 18: Retailers, museums to reopen
June 1: Bars, restaurants, hair salons to reopen, though time frame could be accelerated
Schools to remain shut until September
Spain
May 4: Certain businesses, such as hairdressers, allowed to open nationwide by appointment. Bars and restaurants allowed to serve pre-ordered takeaways; restaurants and bars allowed to serve the public at limited capacity on Formentara in the Mediterranean and three of the Canary Islands in the Atlantic
May 11: In an area covering 51% of the population (excludes Madrid and Barcelona), outdoor service for restaurants and bars allowed at 50% capacity; private areas of hotels can open;

up to

10 people can meet at home
Germany
April 20: small shops, hardware stores and car dealerships allowed to reopen
May 4: Partial school reopenings, hairdressers reopen
May 6: Chancellor Angela Merkel announces plans for broad restart, including restaurants, hotels, all retailers; professional soccer allowed to play games at empty stadiums from May 16, states given leeway to decide on steps to revive trade fairs, tattoo studios and night clubs
Sept. 1: large events such as concerts and festivals may be allowed
France
May 11: Looser restrictions on businesses and stores start coming into effect; travel of less than 100 kilometers (62 miles) allowed; strict restrictions remain on public transport in Paris
Early June: Restaurants, bars and cafes allowed to reopen, providing they adhere to sanitary and distancing rules
June 15: Border restrictions with European countries may be lifted
Switzerland
April 27: Hairdressers, garden centers, do-it-yourself stores and tattoo studios reopen
May 11: All retailers resume, as do museums and libraries. Restaurants and sporting facilities may reopen
June 8: Universities may reopen, professional football matches without spectators may be held
Austria
April 14: Small shops, hardware and gardening stores reopened
May 2: Larger stores as well as services like hairdressers resumed
May 15: Places of worships and restaurants reopen
May 18: Most students return in split groups
May 29: Hotels allowed to reopen
Netherlands
May 11: Barber shops, massage parlors and childcare centers allowed to open their doors again; primary schools will partially reopen, and adolescents can resume group sports under certain conditions
From June 2: Other schools and universities should prepare to open
Sept. 1: Large events, including professional soccer and music festivals, might resume
Belgium
May 4: All wholesale businesses in non-essential industries allowed to reopen physically
May 11: Scheduled reopen date for all retailers, with exception of "contact businesses" such as hairdressers as well as bars and restaurants
May 18: Target date for hairdressers, beauty salons, tattoo studios
Ireland
May 5: Travel of

up to

five kilometers from home allowed for exercise
May 18: Outdoor workers such as in construction and gardening can return to work; four people from different homes can meet outdoors
Portugal
May 4: Small shops, hairdressers, bookstores and car dealerships allowed to restart
May 18: Restaurants can resume operations, with capacity limited to 50%; museums can reopen
June 1: Larger stores, malls, movie theaters and nurseries can reopen
Greece
May 4: Greeks can leave their homes to get a hair cut, buy a book or to visit a church
May 11: Most of the rest of the retail sector reopens
June 1: Malls can resume operation