Europe Inc. Is Getting Worried About the Rise of Populism
(Bloomberg) -- The Italian town of Rosignano owes its existence to an imposing chemicals complex perched on the seashore west of Florence. The primary school is named after company founder Ernest Solvay; the plant is the region's biggest employer; and the tropical white beaches —the result of calcium and limestone discharge from the facility—attract sun-seeking tourists who frolic in the shadow of the century-old factory's pair of massive cooling towers.
Now there's trouble in paradise. Just last year, Solvay SA injected another 120 million euros ($137 million) into the factory, one of its oldest outside its Belgian home base, to improve energy efficiency and environmental standards. This month, Solvay's Italian country manager, Marco Colatarci, sat down to discuss future investments with a member of the populist government that took office in June. He left with key questions unanswered.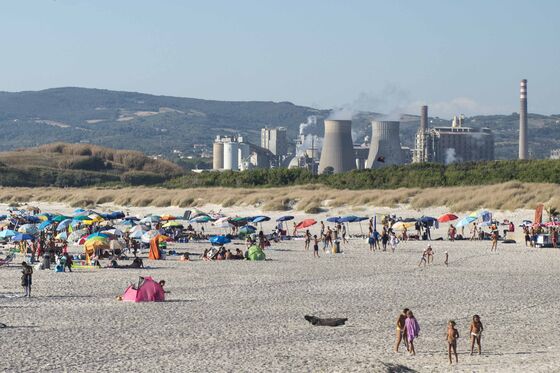 As Colatarci tells it, the government failed to provide the assurances he sought that it will protect the investments of international companies in Italy, particularly those like Solvay that rely heavily on energy. Specifically, the extension of the TAP natural-gas pipeline has been put under government review, potentially delaying a project that already secured billions in financing and which promises to cut energy costs. "This government's energy policy could make the production site less competitive," Colatarci warned. He sees the coalition's stance as evidence it isn't taking the concerns of industry seriously. 
That's a sentiment shared far beyond Italy as companies globally struggle with a more unpredictable political environment. While the nature of democracy means governments of different hues come and go, the rise of populism and far-right nationalism is polarizing voters, stoking policy uncertainty, and ringing corporate alarm bells from the U.S. to Brazil and across swaths of Europe.
"Populism is feeding fears rather than providing real solutions," said Pierre Gattaz, President of BusinessEurope, a Brussels-based lobby representing companies in 34 nations. "This is not only threatening industry but our economic and social model."
Companies in the U.K. are struggling to cope with the doubts surrounding a Brexit deal, while some in Germany have begun to warn against the threat to business from far-right populism. Siemens CEO Joe Kaeser urged his staff to speak out against extremism, saying that scenes of anti-migrant unrest witnessed in eastern Germany in late August damage the country's global image. It's a theme given wings by French President Emmanuel Macron— the self-proclaimed key bulwark against populism—who used a televised address to the nation last week to urge efforts to counter the "troubled times" ahead as Europe risks sleepwalking into extremism.
In Italy, political upheaval isn't exactly a novelty—the country has had some 65 governments since World War II. But the current coalition of the anti-establishment Five Star Movement and the anti-immigration League is ripping up policy norms like seldom before. Five Star appeals to the less-well-off in Italy's south, with a focus on the environment, clean energy and a strong opposition to large infrastructure projects. The League's backbone comprises small and medium-sized business entrepreneurs in the richer north.
Those inherent contradictions are beginning to ripple through policy. Besides uncertainty over the gas pipeline, doubt has also been cast over a high-speed rail project known as TAV that would link Italy and France and facilitate commercial exchanges between Turin and Lyon, France's second-biggest city. The Italian government has put that under review too, saying the 10 billion-euro investment is hard to justify.
The collapse of a highway bridge in the northern Italian city of Genoa in August laid bare the tensions between corporate Italy and its populist government. In the wake of the disaster that killed 43 people, the government sought to take away the lucrative concessions from the company overseeing the highway network, accusing management of negligence. Atlantia SpA said it always acted with full transparency, but the confrontation further spooked investors already concerned about arbitrary government action.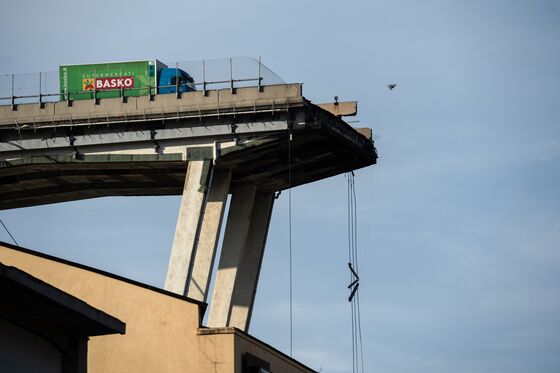 That state of apprehension is reflected in greater pessimism at the corporate level since the coalition took office in June; Italy's business confidence index dropped about 2 percent in the three months to September. Further undermining the outlook are the government's defiant spending proposals for next year, which include funding for measures such as a "citizen's income'' for the poor. The budget flouts European Union rules, and sets Rome on a collision course with Brussels. Government bond yields have surged in response, nudging up borrowing costs for households and companies. 
Prime Minister Giuseppe Conte said in a Bloomberg interview this week that he's not worried by the ensuing market turbulence, since "Italy's economic fundamentals are absolutely solid." But that's little reassurance to the likes of Colatarci at Solvay. "We are concerned about the confrontation with the European Union and about the image we give outside the country," he said.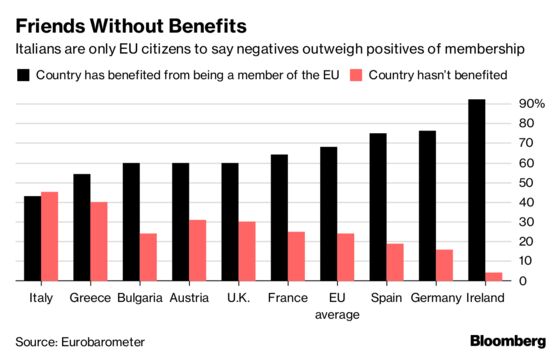 What's ailing Solvay can be traced across Europe, where corporate leaders are increasingly struggling to find the right response to populist governments that are changing the relationship with companies—or populist parties in opposition that are setting the tone of the political debate. 
For many in Germany, the violent anti-migrant protests in the former communist east this summer were a turning point, prompting a rare flood of public concern from company executives. As well as the warning by Kaeser of industrial giant Siemens that skilled foreign workers will be scared off, Katja van Doren of utility RWE said that nationalism threatens to derail Europe's energy transition, since power infrastructure "can't stop at national borders." Deutsche Telekom's Tim Hoettges said he's concerned about the rise of a "new nationalism," and that "sooner or later this will dramatically effect" economies in Europe.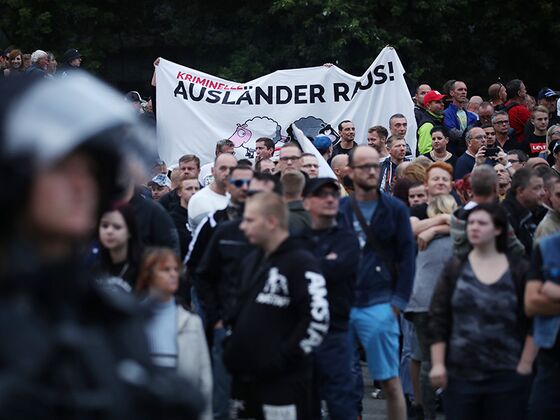 Yet a broader uptake among corporate leaders has been slow, in part because of concern that consumer-facing companies risk a backlash from voters who support the views that are being targeted. In any case, it's by no means a given that populism equals bad for business. Take Poland, whose economy grew almost twice as fast the EU average despite the Law & Justice government's repeat clashes with the bloc. Or the U.S., where stocks hit an all-time high on the back of tax cuts implemented by President Donald Trump—who this week described himself as a nationalist.
While populism's rise represents a danger to the stability of political systems, the fact that it's not a single entity with one ideology makes it hard to argue that populism per se is bad for business, said Maria Demertzis, deputy director of the Bruegel think tank in Brussels. "However, the instability that populism inevitably causes may very well be against business as markets become nervous, and nervous markets lead to self-fulfilling prophecies." 
In Italy, Deputy Prime Minister Luigi Di Maio addressed the matter of the TAP gas pipeline on Wednesday, telling a parliamentary hearing the government was waiting for "final evaluations" to be made by the environment minister. Bringing Italy's gas prices into line with the rest of Europe is a "structural phenomenon" which can be addressed by improving supply and demand in the domestic market, he said.
Back in Rosignano, Colatarci is hoping the government will eventually listen to his plea on energy policy. He says it's crucial for the plant's survival in an increasingly competitive environment.
"We expect the government to take decisions in support of Italian industry," Colatarci said. It's "the growth engine of our economy."