Europe Carmakers Shrug Off Worst Sales Since 2013 on EV Optimism
(Bloomberg) -- Europe's automakers are shrugging off depressed sales at home as investors take a more bullish view of their electric-vehicle prospects.
The Stoxx 600 Automobiles & Parts Index climbed Wednesday to an almost three-year high even after the industry's trade group reported worst February for new-car registrations since 2013. Volkswagen AG and BMW AG led gains, with the latter joining the former in laying out more details about its EV ambitions.
Stay on top of the electric car revolution by signing up for our upcoming Hyperdrive newsletter here.
Investors' willingness to overlook last month's 20% plunge in European auto sales reinforces just how fixated the capital markets are now on the transition to EVs. VW Chief Executive Officer Herbert Diess has capitalized on the shift, embracing a rapid-fire messaging strategy similar to Tesla Inc.'s Elon Musk. Daimler AG also is taking the unprecedented step of splitting up its car and truck operations to better position for the new era.
"Volkswagen and Daimler are leading the charge for tech recognition that we see reducing the valuation gap with Tesla," Michael Dean, a Bloomberg Intelligence analyst, wrote in a report. "Against a weak start to 2021 for European auto sales, hopes of a V-shaped demand recovery are fueling earnings optimism."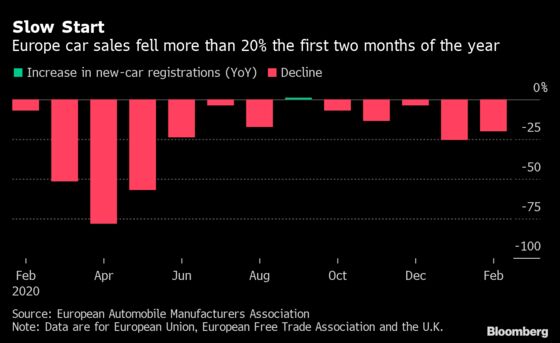 Registrations plunged to 850,170 vehicles last month, the European Automobile Manufacturers' Association said Wednesday. Spain led declines among major markets with a 38% fall, while the U.K. shrunk 36%.
Shuttered showrooms, slow vaccination and economic damage caused by the virus call into question the high expectations for earnings recovery, BI's Dean wrote earlier this week. France's Renault SA is the most at risk because of its high exposure to the region.
Projecting demand in Europe will remain difficult even as year-over-year comparisons get easier in the coming months, BI analyst Gillian Davis said in an earlier report. The initial pandemic-related sales shock began in March of last year.
Among the continent's biggest automakers, deliveries for Renault fell the most at 29%, followed by Stellantis NV at 22%. Both manufacturers count the region as their most important sales hub. Volkswagen fared marginally better with a 19% decline.