Europe Car Sales Plunge 26% in Worst January Total on Record
(Bloomberg) -- Car sales in Europe slumped to a record low for January as coronavirus lockdowns again shook the continent's biggest markets.
New-vehicle registrations plunged 26% to 842,835, the European Automobile Manufacturers' Association said Wednesday, cutting short a reprieve of smaller declines toward the end of last year. Spain led the drops among major markets with a 52% fall, while sales in Germany fell by almost a third.
Shuttered showrooms and hesitant consumers are plaguing automakers which also are fighting production outages due to a worldwide shortage of semiconductors. Many manufacturers' earnings are being rescued by resurgent demand from China, with Volkswagen AG and BMW AG among those posting better-than-expected preliminary earnings.
Carmaker stocks were mostly lower in early European trade. In Frankfurt, BMW fell as much as 0.8% and Volkswagen dropped as much as 1%. Stellantis NV, formed from the merger of Fiat Chrysler and PSA Group, fell 1.1% in Milan.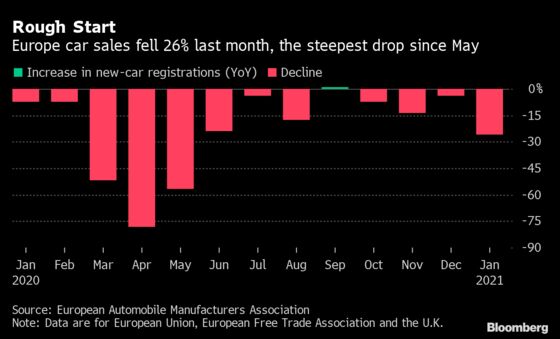 "In one line: Hit by one-off factors, but fundamentals don't look good," said Claus Vistesen, economist at Pantheon Macroeconomics Ltd. He expects more stringent credit standards, a worsening job market and uncertainty over the strength of the economic recovery to cap sales during the first half of this year.
The opposing direction in two key markets -- Europe's decline in January almost matched China's rebound -- will affect carmakers differently. Volkswagen dominates in the world's biggest car market, which is also the most important region for BMW and Daimler, while Europe is the sales focus for Stellantis and French manufacturer Renault SA.
Among the continent's biggest carmakers, sales for VW fell 28% while Renault's were down 23%. Luxury automakers fared better, with registrations dropping 18% for Daimler AG and 17% for BMW.