Europe Banks' Record Trading May Be Last Gasp Before Bleak Year
The good times for Europe's bedraggled investment banks came and went in a matter of weeks.
Heightened volatility and market turmoil on the back of the coronavirus led to record trading volumes for investment banks in the first quarter, especially in rates, equities and currencies, Citigroup Inc. analysts led by Andrew Coombs wrote in a note to clients. However, firms including Deutsche Bank AG, Credit Suisse Group AG, Barclays Plc and UBS Group AG are still likely to report an annual decline in revenue as the impact of the virus takes its toll, the analysts said.
The pandemic has created historic levels of volatility in the financial markets, producing the kinds of swings in asset prices that banks' traders need to make large profits. Yet the spread of the illness also threatens a global recession that could shred corporate activity and lead to a surge in bad loans, which has prompted investors to dump bank stocks.
"We therefore still expect all four major banks to report lower investment banking revenues in 2020 compared to 2019, despite the strong start to the year," the Citigroup analysts said.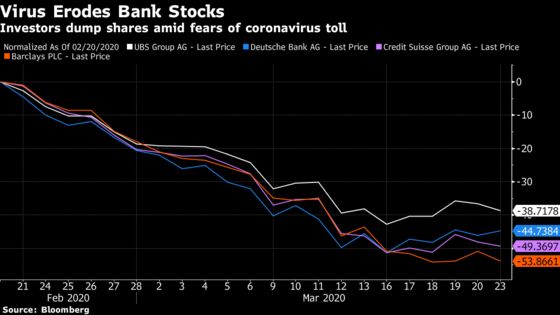 The investment banks may have made some trading losses on the inventories they hold to enable buying and selling, particularly in corporate debt and exotic equities, the analysts said. However, those inventories are smaller than they were in the run-up to the financial crisis, and such losses are likely to be manageable, they said.
"We expect this to be substantially less than we've seen in previous downturns," according to the note. "In turn, we then expect this to be more than offset by stronger customer trading flow, on the back of higher volatility and volumes, resulting in a strong quarter."
Trading revenues are likely to fall off, however, as banks deal with the logistical issues of their traders working from home, markets get less liquid and index values fall, according to Citigroup.
"Primary activity," the business of helping clients issue new stocks and bonds, will also be "weak for the foreseeable future," the analysts said.
Wealth management -- overseeing the fortunes of millionaires and billionaires, a key business for Zurich-based rivals Credit Suisse and UBS -- could suffer a "material fall" in the second quarter compared with the first amid declines in interest rates and assets under management, the analysts wrote.