Euronext Tries to Beat Nasdaq With Raised Bid for Oslo Bors
(Bloomberg) -- Euronext NV stepped up a struggle with Nasdaq Inc. for control of Oslo Bors, raising its bid for Norway's main stock exchange to about $790 million.
The Franco-Dutch exchange operator is now willing to pay 158 Norwegian kroner a share, which is about 4 percent more than Nasdaq bid last month. It's also about 9 percent higher than Euronext's own previous offer.
The development drew assurances from Nasdaq, which said on Monday it remains committed to moving ahead with a deal after already winning the backing of the Oslo Bors board. But the U.S. exchange operator has so far stopped short of signaling it's ready to raise its price.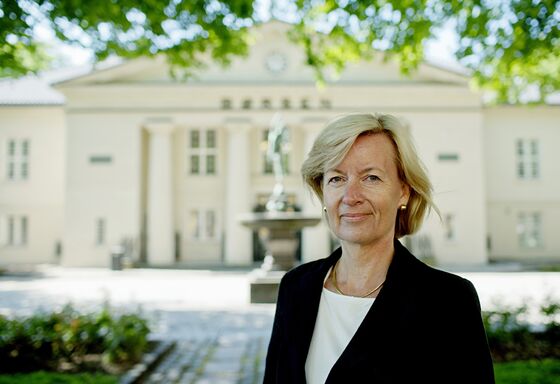 Bente Landsnes, the chief executive officer of Oslo Bors, said she and her team will now evaluate Euronext's new offer, but reiterated her view that Nasdaq remains a better strategic fit.
Landsnes said an in-depth assessment has already led to the "unanimous conclusion from our management and board" [...] "that the Norwegian capital market and our companies will have a better future with an ownership of Nasdaq," in a phone interview.
KLP and DNB, Oslo Bors's two biggest shareholders, said on Monday they want Nasdaq to succeed, underscoring the backing they already gave the U.S. firm last month.
But the question is whether other shareholders in Oslo Bors will be content with a lower bid than the one Euronext just put on the table. As things stand now, Euronext has secured the backing of shareholders representing just over half Oslo Bors's stock, while Nasdaq has holders with about a third of the shares behind its offer.
Oslo Bors directors were caught unawares on Christmas Eve -- a public holiday in Norway -- when Euronext announced it had won an auction held by an investment bank. Oslo Bors shareholders owning 25 percent of the company had hired the bank, Sweden's Carnegie, to find a bidder willing to take over the whole firm.
By the start of the year, Euronext, which operates stock exchanges in Paris and Amsterdam, had secured the support of 50.5 percent of Oslo Bors shareholders through a mixture of irrevocable commitments from shareholders and direct purchases of shares. Publishing its offer document on Feb. 4, Nasdaq revealed that it had control of 35.2 percent of Oslo Bors.
Stephane Boujnah, the CEO of Euronext, said the firm is open to the idea of not being the sole owner of Oslo Bors. At a press conference on Monday, he said he was "happy" to discuss a model in which DNB and KLP could stay on as minority owners.
Euronext is extending its offer period by four weeks to March 11. It also said it sees Oslo as a platform from which to expand its presence in the Nordic region. For its part, Nasdaq has argued that its dominance in the Nordic markets -- where it already operates exchanges in Sweden, Denmark, Finland and Iceland -- make it a more natural fit for Oslo Bors.
The rival bids will be assessed by Norway's markets regulator and, ultimately, the country's finance ministry, a process that could take months.
The two bidders are in many ways similar companies. Both have a track record of successively running stock exchanges in multiple countries, yet neither have developed a derivatives market large enough to challenge European heavyweights London Stock Exchange Group Plc or Deutsche Boerse AG. Acquiring Oslo Bors will not change that fact for either company.