Nasdaq and Euronext Intensify Battle to Take Over Oslo Bors
(Bloomberg) -- The fight for Oslo Bors intensified on Monday as Nasdaq Inc. made a formal takeover bid while Euronext NV signaled it may raise its offer to buy Norway's main exchange.
Nasdaq is ready to pay 152 kroner a share for Oslo Bors VPS Holding ASA, valuing it at 6.54 billion kroner ($770 million), which is 5 percent more than its Franco-Dutch rival has put on the table. Nasdaq already has the backing of the board and the two biggest shareholders. Euronext has won commitments from owners who control just over half of the company.
Oslo Bors, the main trading hub in Scandinavia's richest economy and home to some of the region's biggest oil and marine companies, says the "logic" driving Nasdaq's offer is "strong." Chief Executive Officer Bente Landsnes told Bloomberg TV on Monday that she decided to back Nasdaq's bid after speaking with other interested parties. If Nasdaq succeeds, it would extend its Nordic domination, which already includes Denmark, Sweden, Finland and Iceland.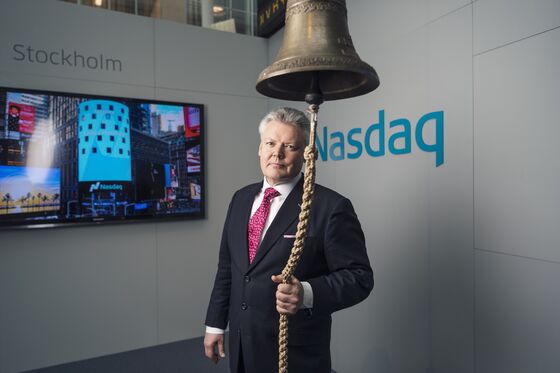 But Euronext made clear it has no intention of backing down, and said it's "determined" to move ahead with its takeover plan. In its statement on Monday, the exchange operator spoke of its "strong track record of pan-European and decentralized independent market management."
Lauri Rosendahl, the president of Nasdaq Nordic, says he's willing to sit down and talk with Euronext to try to find a way out of the gridlock.
"We're currently not in talks with Euronext, but we're of course ready to have talks with all shareholders, and we're open to have that with them," he said in an interview late last week.
"Very many investors have signaled interest in accepting Nasdaq's bid," he said. What's more, Rosendahl says that "there are pretty many stakeholders that, if they were confronted with the option of selling to us today, then that'd definitely make it a majority." For now, Nasdaq has won "irrevocable" pre-acceptances from investors representing 35.1 percent of the shares in Oslo Bors, including DNB ASA and KLP, the two biggest.
Oslo Bors had sales of 1 billion kroner last year, up 5 percent from a year earlier. It's profit dropped 3 percent to 346 million kroner.
"We have the strategic, industrial and regional arguments on our side. We are supported by in practice all the important stakeholders," Rosendahl said.
The final decision rests with Norway's Finance Ministry, which has warned that the process "may take some time."