Economic Activity Jumps to Six-Month High in the Euro Zone 
(Bloomberg) -- Euro-zone economic activity unexpectedly accelerated at the fastest pace in six months in February, with services proving resilient as factories battled challenges including the coronavirus outbreak.
The reading in a survey by IHS Markit comes a day after European Central Bank President Luis de Guindos said the bloc's relatively strong labor market and ultra-low interest rates are supporting economic growth. That's an echo of an argument long made by the ECB, that domestic strength is providing some buffer against global risks.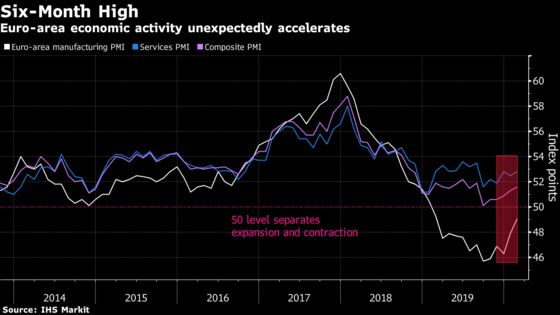 "The expansion is being led by welcome resilience in the service sector," said Chris Williamson, chief business economist at IHS Markit. "But manufacturing is also showing encouraging signs of pulling out of the downturn that has plagued producers for over a year."
In Germany, Europe's biggest economy, a surprise jump in the factory PMI sent the euro higher, though the improvement was largely a statistical distortion that masked weakness in export demand and sentiment.
The euro area's composite gauge -- a measure of private-sector activity -- edged up to 51.6, signaling quarterly economic growth of about 0.2%. Manufacturing continued to shrink, though at a slower pace.
What Bloomberg's Economists Say...

"The flash PMI for February is one of the first indicators of how the coronavirus outbreak has affected the euro-area growth outlook. And it proved better than expected."

-- Jamie Rush and Maeva Cousin. Read their EURO-AREA REACT
Investors responded by pushing the euro up 0.3% to $1.0816 as of 10:15 a.m. Frankfurt time. But the worsening virus epidemic kept pressure on equities, with the Stoxx Europe 600 falling for a second day.
The question is whether new risks will ultimately spark a broader slump that derails a weakened European economy.
Asian economies are already in trouble. Reports Friday showed manufacturing in Australia and Japan fell, while early export orders for South Korea showed a slump in Chinese demand. In China itself, car sales sank 92% in the first half of February, and the Commerce Ministry said trade and inbound investment would take an increasing hit.
Read more...
Euro's Push Higher on PMI Data Gives Funds Opportunity to Sell
In a potentially worrying development for the euro area, new business in services grew more slowly than in the previous two months. That could be linked to disruption from the virus outbreak to businesses such as travel and tourism.
In addition, a number of manufacturing companies are seeing their supply chains disrupted as factories in China shut.
IHS Markit economist Phil Smith downplayed the positives in the German manufacturing report, saying the headline number "flatters the sector's current trajectory."
In the euro zone, the full immediate impact "may not yet be apparent," Williamson said. "In particular, the widespread delivery delays seen in February bode ill for production in March unless new deliveries can be secured."