Euro's Year of Soul Searching May Hit Fiscal Wall in Berlin
(Bloomberg) -- By coincidence rather than design, the euro will this year face one of the most comprehensive health checkups since its creation.
Just as the European Central Bank starts reviewing its monetary policy strategy for the first time since 2003, the European Commission is poised to ignite a debate on the bloc's fiscal governance with an assessment of current arrangements it released on Wednesday. Both institutions have new leaders, and each wants to make a mark.
The synchronized appraisals are likely to display the flaws in the single currency's architecture in stark relief. The region's disjointed approach to fiscal matters is all the more obvious now that officials in Frankfurt and Brussels recognize the ECB's ammunition is largely spent.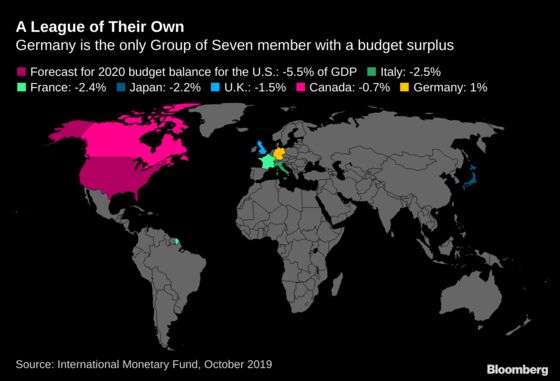 "Monetary policy in its conventional sense isn't really offering much room for maneuver," HSBC Bank Plc Senior Economic Adviser Stephen King said on Bloomberg TV last week. "Europe, more than anyone else, has room to offer stimulus -- and if monetary policy has run out of room, it probably has to be fiscal stimulus."
Germany stands out in particular, as the only Group of Seven member with a budget surplus, and a relatively low debt burden. It's the key target of the ECB's calls for governments with "fiscal space" to ramp up spending to aid economic growth, and for Brussels officials seeking a common tool. The country shows little sign of giving ground on either point, though that won't stop people trying.
Under former president Mario Draghi, the ECB unveiled a renewed salvo of bond purchases and a record-low negative interest rate to stimulate economic expansion. While that easing takes effect, his successor, Christine Lagarde, has inaugurated a review to study the inflation-targeting regime and the instruments it deploys.
In tandem, the commission's assessment is intended to start a debate on the need for better alternative levers of economic policy. It underscores the failings of the bloc's fiscal coordination, saying it's "too complex" and has also allowed countries in need of belt-tightening to spend more while those that might stimulate growth remain frugal.
"Public debt remains high in some member states and the fiscal stance at member state-level has frequently been pro-cyclical," the Commission said in its report. "Moreover, the composition of public finances has not become more growth-friendly."
Officials restated the case for a tool that pools resources -- something akin to a common euro-area budget. Draghi called for that too before he left, arguing that it's a mistake to assume that stimulus by rich countries will spill over to the rest of the bloc.
What Bloomberg's Economists Say

"If Berlin relents and the fiscal floodgates swing open, growth will be stronger at home and abroad. But would it transform the wider euro-area economy? Simulations using a global structural model suggest not."

-Jamie Rush and Maeva Cousin. Read their EURO-AREA INSIGHT
"The ability to steer the fiscal stance of the euro area as a whole remains constrained," the commission said. "The establishment of a fiscal stabilization capacity for the euro area, which would complement national fiscal policies, would allow monetary policy to become more effective and with fewer side effects."
Such a facility could be a prototype for realizing the real dream of many officials in Brussels and Frankfurt, a fiscal union to match the existing monetary union.
Rich countries like Germany would need to fund such transfers though, and signs that such governments are ready to discuss stimulus at a central or even national level aren't encouraging. European Union officials acknowledge that different views among countries will render the upcoming debate difficult, and an agreement elusive.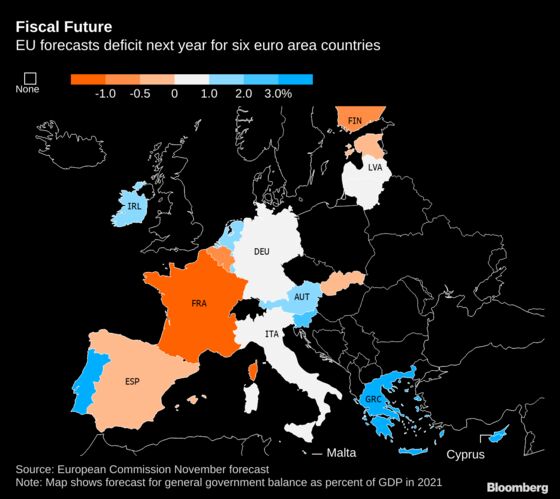 "As with the U.S., where you have transfer payments from Massachusetts to Mississippi, it may be the case that what Europe also needs is some kind of transfer arrangement whereby money goes from North to South," King said. "That of course is much more politically contentious."
Recent negotiations on shoring up the euro area to withstand a future crisis offer little cause for optimism. A reform of its bailout fund has been held up, and discussions on common deposit insurance are moving glacially. A common budget instrument has been agreed, after much debate, but it's far too small to be useful in steering the economy.
Recent poor data -- France and Italy unexpectedly contracted at the end of 2019 and Germany remained stuck in a manufacturing recession -- might renew pressure on governments with fiscal space to act. Trade risks have also returned to the fore, with the U.S. reviving threats to raise duties on imports of cars from the EU, and France only narrowly avoiding tariffs on wine and cheese in a dispute over digital taxation.
As for starting to pool resources, King has one idea. The bloc could divert more money to pan-regional projects that could provide cross-border synergies and stimulus.
"If you had a European wide series of public spending programs -- linking train railway systems together better perhaps than they are currently -- that itself might be helpful," he said.