Euro's Fate Lies in Who Blinks First: Real Money or Hedge Funds
Where the euro goes next may be all about investor positioning.
The common currency has slipped to the lowest since 2017 versus the dollar, yet this hasn't deterred asset managers from accumulating the largest net long position on record. The move is more in line with the view of hedge funds, who are the most negative on the euro in three years, according to the latest Commodity Futures Trading Commission data.
And while the increased bearishness of these leveraged funds should be expected given their flexibility to quickly respond to short-term fluctuations, the positioning across institutional investors may have taken some by surprise. The direction for the euro may therefore come down to who adjusts their exposure from multi-year extremes first.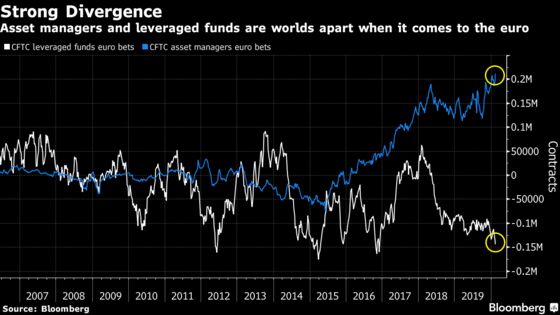 The common currency has come under pressure in both the spot and options markets on concerns over the coronavirus outbreak's effect on the euro-area economy and the potential for a response through monetary stimulus by the European Central Bank. Options gauges signal traders are the most bearish on its short term prospects in five months, while they hold neutral bets over the longer term.
Read more:
Euro May Rebound on DeMark TD Sequential Signals: Major Techs
Technically, there are signs the euro could see a relief rally in the short term, yet it remains on a bearish path in the medium term. It traded as much as 0.2% stronger Monday at $1.0851, rising for the first day in four.
NOTE: Asset managers are institutional investors, including pension funds, insurance companies and mutual funds. Leveraged funds are typically hedge funds and other speculative money managers
NOTE: Vassilis Karamanis is an FX and rates strategist who writes for Bloomberg. The observations he makes are his own and are not intended as investment advice