Euro Corporate-Bond Sales Spike in Rush to Beat Trump Trade War
(Bloomberg) -- The euro corporate bond market is set for its busiest day in a month, as issuers race to get ahead of rising borrowing costs amid escalating U.S.-China trade tensions.
Six borrowers are offering notes including soda bottler Coca-Cola HBC AG, U.S. power-equipment maker Eaton Corp. and Spanish oil company Cia Espanola de Petroleos SAU, according to people familiar with the sales, who asked not to be identified because they're not authorized to speak about it. Ireland and the Philippines also have sovereign deals.
The rush of deals comes after U.S. President Donald Trump's threat to impose higher tariffs on Chinese imports upended global markets, bringing a halt to months of tightening spreads and falling yields in the euro bond market. Monday's U.K. holiday and the winding down of earnings season also likely contributed to the flurry of offerings.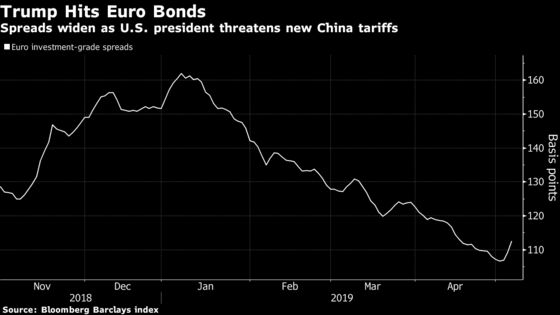 Australian toll-road operator Transurban Group, VodafoneZiggo Group BV and staffing provider Adecco Group AG are also selling euro notes. Windfarm operator Orsted A/S is in the sterling market with three green bonds.
Trump has maintained hard-line rhetoric regarding China even as the Asian nation's top trade negotiator Liu He heads to Washington for further talks. The president told supporters at a campaign rally on Wednesday that China's leaders "broke the deal" the two countries were negotiating.
Euro investment-grade spreads have widened about six basis points in two days to 113 basis points, curtailing four months of tightening, according to a Bloomberg Barclays index. Still, borrowing costs remain relatively low following this year's credit rally. Average yields are at 0.74%, compared with a Jan. 8 high of 1.4%, according to a Bloomberg Barclays index.