Euro-Area Outlook Brightens as Recession Shallower Than Expected
The euro-area economy is better placed for a strong rebound after output shrank less than initially reported at the start of the year and an easing of coronavirus lockdowns raised confidence.
An assessment of current conditions in Germany, the region's largest economy, rose in June to the highest level in nearly two years, according to a report by research institute ZEW. Unexpected growth in Italy in the first quarter meant gross domestic product in the 19-nation euro zone only fell 0.3%, half as much as estimated.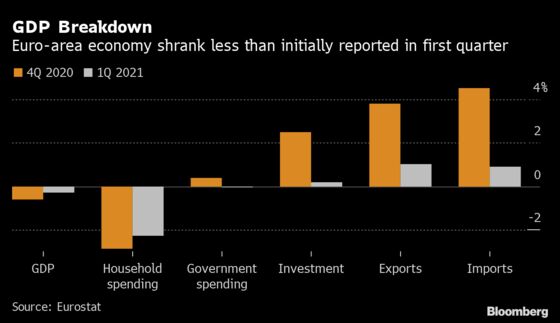 Since then, Europe and its largest economy have made significant headway in vaccinating citizens against Covid-19, with more than 45% of the German population having received at least one shot. That's allowed restaurants, shops and cultural venues to gradually reopen after seven months of lockdowns.
A strong economic recovery is expected to take hold in the second half, fueled by large household savings and pent-up demand for goods and services. Manufacturing, which served as a stronghold throughout the most recent waves of restrictions, is however facing supply-chain disruptions that could dampen the rebound.
ZEW gauges measuring expectations in Germany and the wider euro area declined in June, though the institute's President Achim Wambach cautioned against taking the results as an indication that the recovery is fading before it actually took off.
"The economic recovery is progressing," Wambach said. "The decline in expectations is probably largely due to the considerably better assessment of the economic situation, which is now back at pre-crisis levels. The financial market experts therefore continue to expect a strong economic recovery for the next six months."
The European Central Bank is meeting this week to decide on its monetary stimulus, and economists expect it to keep pushing ahead with an elevated level of pandemic bond-buying over the summer. Inflation is seeing spikes this year that could push the German rate to 4%, according to the Bundesbank, though most policy makers and analyst say this is being driven by temporary factors.