Euro-Area Economy Began 2020 With Unexpectedly Strong Pickup
The euro area's private sector expanded at a faster-than-anticipated pace in January, providing a foundation for economic growth to accelerate in the course of the year.
A composite Purchasing Managers' Index rose to 51.3, the highest level since August and above an initial estimate. The pickup was led by sound momentum in services and helped by dissipating woes in manufacturing.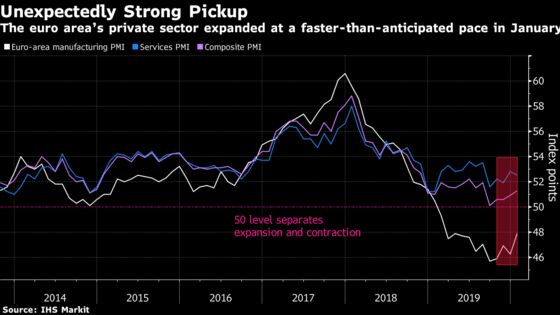 The data point to easing concerns that persistent weakness in industry could damp domestic demand, which has remained robust thanks largely to a healthy labor market. While companies across the region still face several headwinds, confidence about the next 12 months jumped to the highest level since September 2018.
"Manufacturing is showing welcome signs of stabilizing after the heavy downturn seen last year, and services growth remains encouragingly resilient," said Chris Williamson, an economist at IHS Markit, which published the report. "We expect to see growth gaining momentum steadily as 2020 proceeds."
Williamson added that although trade tensions between the U.S. and China have cooled -- reducing a major risk that weighed on global growth last year -- Europe appears to have become a new target of President Donald Trump's rhetoric. The automotive sector could be particularly vulnerable to tariff threats.
Trade discussions with the U.K. could also add to business uncertainty as the year progresses, he said, just as the outbreak of a coronavirus in China threatens to disrupt global business.
"We consequently expect the euro zone to avoid recession in 2020 but to struggle to muster growth of 1%," Williamson said.