Euro-Area Economic Confidence Falls, Complicating ECB's Mission
(Bloomberg) -- Euro-area economic confidence slipped for an 11th straight month, further damping expectations that the currency bloc will rebound from a sharp growth slowdown and complicating the European Central Bank's plans to pare back stimulus.
The European Commission's economic sentiment index declined slightly, bringing it to its lowest level since May 2017. While the drop was less than expected by economists, and industry confidence showed improvement, the index was weighed down by weaker sentiment in Italy and a marked decrease in consumer optimism for the whole euro area.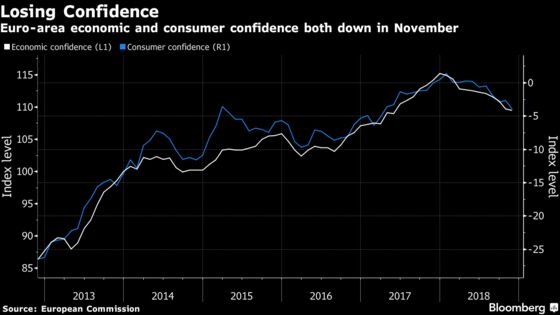 The headline confidence measure slipped to 109.5 this month from 109.7 in October. There was a better reading for the Business Climate Indicator, which rose for the first time in six months.
But the continued loss of optimism suggests the euro area's poor performance in the third quarter isn't as temporary as policy makers initially expected. ECB President Mario Draghi cited "prominent" risks earlier this week and others have cautioned that headwinds are becoming increasingly noticeable.
As the ECB plots its next move, there's also a more dovish tone from the U.S. Federal Reserve after Chairman Jerome Powell opened the door for a potential pullback in projected interest-rate hikes for 2019.
The euro-area survey shows falling confidence among business leaders is spreading to consumers. All components of the consumer confidence measure declined in November, with a particularly sharp deterioration in households' assessment of the future economic situation.
Even though industry confidence improved, the European Commission's survey showed managers' assessment of export order books weakened.
After reports on inflation and unemployment on Friday, there are few more significant data for the ECB to digest before a Dec. 13 policy meeting, when it's expected to cap bond-buying and issue new economic forecasts.
The ECB is unlikely to announce new long-term bank loans next month and will focus its discussion on how to reinvest maturing bonds.
There's also economic trouble among the euro area's neighbors. Data Thursday showed that both Switzerland and Sweden shrank in the third quarter.
The Organization for Economic Cooperation and Development warned that protectionism continues to drag on global trade. It argued that policy makers may have to rely on governments and fiscal stimulus if the economy slips into a deep downturn as central banks' room to maneuver is limited after years of unprecedented support.
In France, consumer confidence dropped sharply in November amid street protests against rising fuel prices.