Europe Mulls Military Mission in Libya, Amid Oil Disruption
(Bloomberg) -- The European Union may deploy a military mission to help enforce an arms embargo and a potential cease-fire in Libya, as the bloc scrambles to contain a conflict that's drawn in Russia and Turkey and that threatens to destabilize the Mediterranean.
While no decisions were taken at a meeting of EU foreign ministers in Brussels on Monday, two officials present in the discussion said there was consensus that preparations should begin for an expanded naval and air-patrol mission. One of the officials said any troop deployment pre-supposes a UN Security Council decision and a truce between Libya's warring factions, as many countries are wary of active involvement in a raging conflict.
European leaders are trying to regain a foothold in Libya after they were sidelined by Russia and Turkey's support for opposing sides in the conflict. They want to find a way to enforce a UN-mandated arms embargo, nominally in place since 2011, after world leaders meeting at a conference in Berlin on Sunday vowed to respect it. The EU already has a mandate to monitor the embargo, but its naval mission lacks any warships and its efforts have been hamstrung by disputes with Italy about where to disembark migrants saved at sea.
One of the participants in Monday's meeting said the EU can't expect to be taken seriously if it can't commit forces to patrol its immediate neighborhood. The senior diplomat said the mission discussed on Monday would in essence be an expanded mandate and a new name for the so-called 'Operation Sophia,' which is currently in place without any ships.
Speaking before the meeting, EU foreign policy chief Josep Borrell said the bloc has to decide how it will ensure Libya's tentative cease-fire holds in order to capitalize on the limited progress achieved at a meeting of leaders in Berlin on Sunday. Libya's oil output plunged to the lowest level since 2011 this week after eastern military commander Khalifa Haftar began a blockade of several ports in his offensive against the UN-backed government.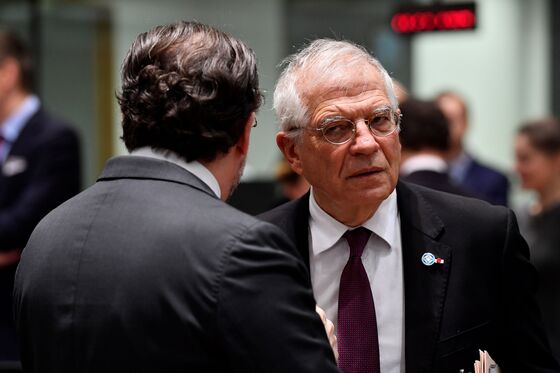 "A cease-fire requires someone to take care of it. We cannot say this is a cease-fire and then forget about it," Borrell said as he arrived at the gathering in Brussels. "Arms control, embargo control -- there are several possibilities and the ministers will have to decide what to do in order to help implement the agreements of yesterday's conference."
The leaders meeting in Berlin on Sunday agreed to work toward a more durable cease-fire in the North African nation. Yet, the talks also showed how global powers are struggling to find solutions to a conflict that's raged for years. Haftar has led a months-long assault on Tripoli, and fighting continued outside the capital over the weekend.
Global oil prices jumped above $65 a barrel on Monday as the Libyan disruptions coincided with the shutdown of some oil output in Iraq, reigniting fears about the market's vulnerability to geopolitical risk in key supply regions. Libya holds Africa's largest proven oil reserves.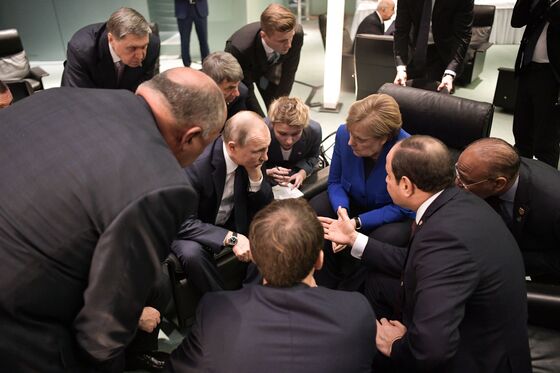 After Haftar blocked exports from ports under his control, the state-run National Oil Corp declared force majeure on Saturday, allowing Libya to legally suspend delivery contracts. Libya won't be able to pump more than 72,000 barrels a day once its storage tanks are full, according to a spokesman for the NOC, down from more than 1.2 million barrels a day on Saturday.
"The Berlin conference achieved only a truce, not a real cease-fire. And there are no clear mechanisms to sanction whoever violates the truce, or the arms embargo," said Dario Cristiani, a fellow at the German Marshall Fund of the U.S. "Which means: there is no real way to stop external interference."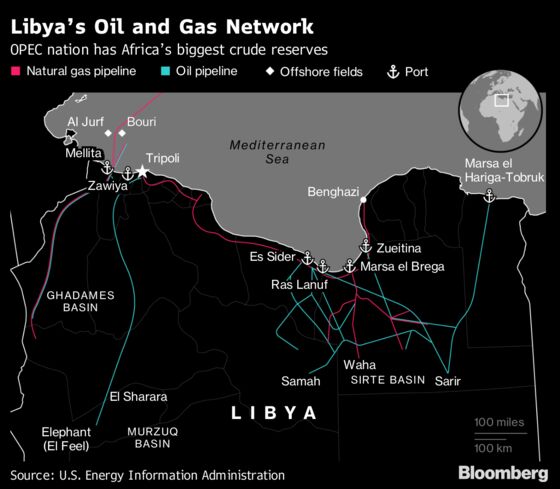 Highlighting the complexity of the EU's objective to find a way forward, the Greek government has said it will not accept any political deal for Libya that doesn't annul an agreement the Libyan government struck with Turkey on maritime borders. EU foreign policy decisions require unanimity.
EU officials are concerned that unless they have a say in the Libyan peace process, the bloc could be vulnerable to waves of immigrants flowing across the country's fragile borders. Libya has been a gateway for migrants seeking refuge in Europe, and the EU is also concerned that the chaos in the country is proving fertile ground for Islamic extremists who have targeted Europeans in the past.
Under the terms of Sunday's agreement, Haftar, who is backed by Russia, and Libya's internationally recognized Prime Minister Fayez al-Sarraj will now each put forward five names for a committee to hash out the terms of a more permanent halt to fighting. The United Nations is pushing for a meeting of that group in Geneva within days.