EU Urged to Protect Carbon Market From Excessive Speculation
(Bloomberg) -- The European Union should strengthen supervision of its red-hot emissions market to avoid distortions driven by financial investors, according to a report published on Wednesday.
The recommendation from researchers at the Potsdam Institute for Climate Impact Research comes a day before a meeting of EU leaders, who are set to discuss surging carbon prices. Permits to pollute rose to a record last week and are trading almost 150% higher this year amid stricter climate policies, soaring energy prices and increased interest from investors.
"If we let speculation run wild, this can sooner or later undermine the functioning of CO2 emissions allowance markets," said Michael Pahle, co-author of the report. "Putting in place better monitoring and integrated regulation now can prevent fundamental problems later on."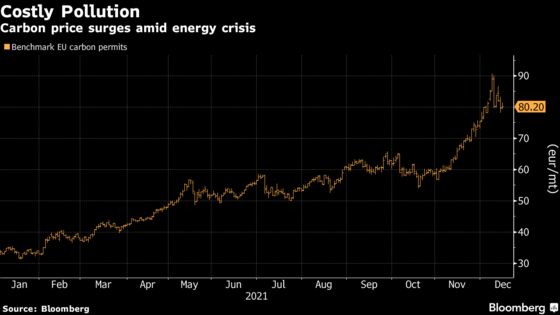 While a group of countries led by Poland and Spain blamed speculators for the unprecedented spike and called to restrict market access for some financial investors, the EU's market watchdog dismissed concerns over abuse. The recent surge was mostly caused by economic and political factors, the European Securities and Markets Authority said last month.
The EU Emissions Trading System imposes decreasing pollution caps on more than 11,000 installations owned by manufacturers, power generators and airlines. The pace of emission cuts is set to rise in the coming years as Europe seeks to align the cap-and-trade program with stricter climate targets for 2030. That means permits to pollute will be more scarce. 
Data collected by the researchers at the think tank known as PIK show that the number of new financial actors, mainly investment funds, more than tripled in the past three years. While some of them help emitters reduce the risk of uncertain future prices, trading behaviors by others may lead to excessive volatility, price bubbles or stockpiling of permits by large investment funds to influence prices.
The report recommends that the EU create a dedicated regulatory body to oversee the emissions market. Currently, carbon allowance derivatives are subject to a law on financial instruments, trading is supervised by ESMA, and the rules on supply and auctioning of allowances are designed by the Commission's climate directorate.
The EU should also enhance transparency with better data availability and more timely disclosure, and improve diagnostics, it said. Taking action is crucial because a wait-and-see approach can have profound implications for emitters in the system and consumers.
"Like ESMA, we evidence the beneficial roles of financials for market functioning," said Pahle. "Yet, we also uncover recent trading irregularities and substantiate concerns that the nature of financial trading has changed, highlighting the potential threat financials can pose."