EU Trade Chief Says U.S. Car Tariff Threat 'Not Based on Facts'
European Trade Commissioner Cecilia Malmstrom said cars made in the EU don't pose a threat to U.S. national security and shouldn't be targets of American tariffs.
In May, the White House agreed to delay new tariffs on imported automobiles and parts for six months, while Washington engaged in negotiations with the EU and Japan.
"We hope that it will be extended because, of course, we think it's not based on facts," Malmstrom said Wednesday during an interview with Bloomberg Television.
"The European Union and our exports of cars or car parts to the U.S. are not a security threat to you, it's based on normal trade," she said. "So we disagree with the findings of the reports."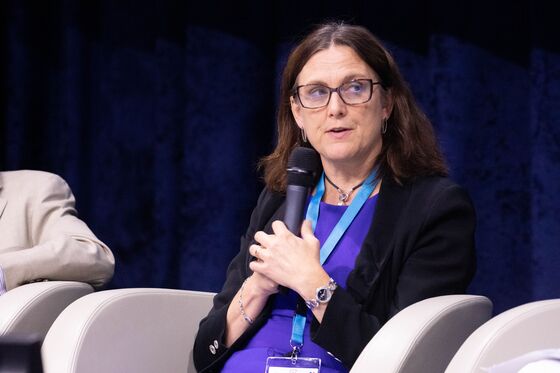 President Donald Trump's threat to levy tariffs on foreign automobiles draws on a loophole in international trade rules that permits countries to take "any action" they deem necessary to protect their national security.
Washington has already hit the EU with duties on its steel and aluminum exports using the same national-security justification.
The threat of U.S. auto tariffs has been on ice since Trump and European Commission President Jean-Claude Juncker agreed to refrain from "unilateral actions" while the EU and the U.S. endeavor to negotiate a trade pact.
Though the U.S.-Japanese talks have made some progress in recent weeks, transatlantic tensions have since frayed, due in part to the EU's refusal to include agricultural products in the fledgling trade talks.
Malmstrom reaffirmed the commission's position that "there is no support for agriculture to be included" in any prospective U.S.-EU trade agreement.
She added that the U.S. and the EU should seek a settlement in the nearly 15-year-old dispute over government subsidies for Airbus SE and Boeing Co.
Malmstrom said the WTO found that both the EU and the U.S. have "sinned."
The WTO is expected to issue an arbitration ruling in the coming weeks that could authorize as much as $11 billion in retaliatory U.S. duties on European exports.