AstraZeneca Fails to Soothe EU Ire Over Vaccine-Delivery Delays
(Bloomberg) -- European Union regulators proposed requiring drugmakers to flag exports of coronavirus vaccines in advance as the bloc seeks to step up inoculations amid growing anger about delivery delays by AstraZeneca Plc, which faces a fresh grilling at mid-week.
The proposed "transparency mechanism" for vaccine exports comes after the European Commission expressed "deep dissatisfaction" with a disclosure by Astra that planned deliveries of its Covid-19 vaccine would face delays. The EU's executive arm says that this would mean significantly fewer deliveries of the jab this quarter than what was foreseen in the advance purchase agreement struck between the two sides last summer.
"We want clarity on transactions and full transparency concerning the export of vaccines from the EU," European Health Commissioner Stella Kyriakides told reporters on Monday in Brussels. "All companies producing vaccines against Covid-19 in the EU will have to provide early notification whenever they want to export vaccines to third countries."
The initiative coincided with separate recommendations on Monday for stricter curbs on travel to the 27-nation EU. The commission recommended that even people visiting the bloc for essential reasons be required to show a negative Covid-19 test taken within 72 hours of departure.
The proposals, due to be discussed by EU governments, come amid political alarm about hurdles to the rollout of coronavirus vaccines by drugmakers that also include Pfizer Inc. and Moderna Inc. The EU lags behind the U.S. and the U.K. in terms of doses administered as a share of its population.
"We could deliver many more vaccines, we just don't have access to them," Greek Prime Minister Kyriakos Mitsotakis said at a virtual panel of the World Economic Forum on Monday.
Croatian Premier Andrej Plenkovic told reporters in Zagreb that "vaccine diplomacy has turned into vaccine hijacking" as countries that aren't tied to collective purchase agreements are willing to pay more for early access.
In mid-January, Pfizer reported a production disruption at a factory in Belgium that reduced vaccine deliveries to member countries last week. And last Friday, Astra -- which may get EU approval for its shot later this week -- announced delays during the first quarter to previously scheduled deliveries to the continent.
Commission President Ursula von der Leyen spoke earlier on Monday by phone with Astra Chief Executive Officer Pascal Soriot.
"She made it clear that she expects AstraZeneca to deliver on the contractual arrangements," her spokesman Eric Mamer told reporters. The commission last year signed an advance purchase agreement with the company for as many as 400 million doses -- part of a total 2.3 billion doses secured so far for the EU.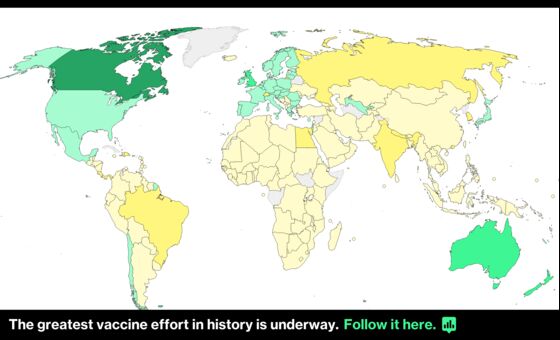 A representative for the company said Soriot was pleased to speak to von der Leyen and "stressed the importance of working in partnership and how AstraZeneca is doing everything it can to bring its vaccine to millions of Europeans as soon as possible."
After the EU held two exchanges with Astra on Monday in a bid for answers to questions about the new, slower delivery schedule, Kyriakides said the bloc remained dissatisfied as a result of a "lack of clarity and insufficient explanations" by the company and another meeting would be held on Wednesday.
Countries across the EU have prolonged recession-inducing lockdowns to tame the spread of the virus, which has killed more than 400,00 people in the bloc since last spring. The commission said on Monday that interventions such as stay-at-home measures and the temporary closing of certain businesses must be maintained and in some cases reinforced, while all non-essential travel must stop.
For arrivals from countries where a worrying mutation of the virus has been detected, the commission said member states should systematically set obligations such as self-isolation, quarantine and contact tracing for as many as 14 days. In addition, it said people arriving from outside the EU should submit a passenger-locator form.
The 27-nation EU already discourages non-essential visits by residents of all other countries except eight -- a list that was created last year and that gets reviewed about every two weeks.