U.S., EU Slam Belarus 'Piracy' as Pressure Builds Over Arrest
(Bloomberg) -- European leaders, with U.S. backing, moved to impose additional punitive measures on Belarus over the forced landing of a Ryanair Holdings Plc jet and the arrest of a dissident journalist, even as French President Emmanuel Macron acknowledged the measures might not suffice.
"It's piracy," German Finance Minister and Vice Chancellor Olaf Scholz said Tuesday in a Bloomberg webinar. "I'm really, really angry about what happened and we cannot accept activities like this in Europe."
The U.K. closed its airspace to the country's airline on Tuesday, a move the EU is planning after asking carriers based in the bloc to avoid flying over Belarus. The 27 European Union leaders meeting in Brussels vowed to add more Belarusian officials to an existing sanctions list and broaden punitive measures that would target companies and the whole sectors of the economy, while demanding the immediate release of 26-year-old Raman Pratasevich.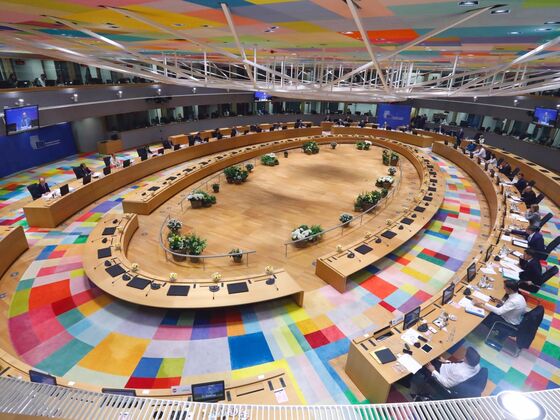 U.S. President Joe Biden welcomed the EU response to what he called "a direct affront to international norms" and asked advisers for options hold the people responsible accountable.
"This is an attack on democracy, this is an attack on freedom of expression and this is an attack on European sovereignty," Ursula von der Leyen, head of the European Commission, told reporters.
It could be a month or more however before European sanctions take effect, while the U.S. administration didn't indicate when it might act. Macron expressed frustration at the limits on the West's ability to influence the behavior of Belarusian strongman, Alexander Lukashenko, in office since 1994, or his closest ally in Russia.
"It's not obvious what else can be done," Macron said Tuesday, repeatedly asking a reporter what other measures could be more productive. "You yourself don't know what to say -- in this case, do we start an armed conflict? Do we entirely cut off relations? We already did that. We go further but to where?"
Lukashenko has already withstood years of Western pressure thanks to support from Russia and China, while deepening a crackdown on the opposition that began after protests against his claim of a landslide election victory last summer.
Pratasevich, who told allies before the flight from Athens to Vilnius that he was being watched, appeared in a brief video released by Belarusian authorities Monday night. Speaking with little expression, he said he was feeling well and has confessed to charges of fomenting mass unrest. While he said was being treated "appropriately," his allies said he appeared to have been beaten. His lawyer said she hasn't been able to speak to her client.
His girlfriend Sofia Sapega, a Russian citizen, was also taken from the flight and shown Tuesday in a video saying she runs a social media channel that violated Belarusian law.
Accused of torturing prisoners, Belarusian authorities have regularly released such "confession" videos from detainees in the months since the protests began last summer. The crackdown shows no signs of letting up, with a court in Mogilev Tuesday sentencing seven opposition activists and bloggers to sentences of up to seven years in prison each for organizing mass unrest -- the same charge to which Pratasevich confessed in the video.
The video "makes for deeply distressing viewing," U.K. Prime Minister Boris Johnson said on Twitter Tuesday. "Belarus' actions will have consequences."
The EU's tougher stance against Belarus coincided with a scheduled discussion on its close ally Russia. Lithuanian President Gitanas Nauseda called for measures to limit Russia's access to financial markets and international payment systems.
Von der Leyen said that Russia has tried to weaken the EU and undermine member states through "sabotage, assassinations, divide-and-rule tactics, cyber-attacks, disinformation campaigns."
"It is getting worse," she said. The EU leaders asked the commission to set out options for pushing back against Putin when they meet next month.
All the same, German Chancellor Angela Merkel insisted that -- despite speculation by British Foreign Secretary Dominic Raab -- there is no evidence to show that Russia had a hand in Pratasevich's arrest.
"We had no reliable information about Russia's role yesterday, therefore we also didn't make any assessment along those lines," she told reporters after the EU summit. "When I talk to the Russian president, this topic will surely also be on the agenda. But we cannot operate with speculation at the moment."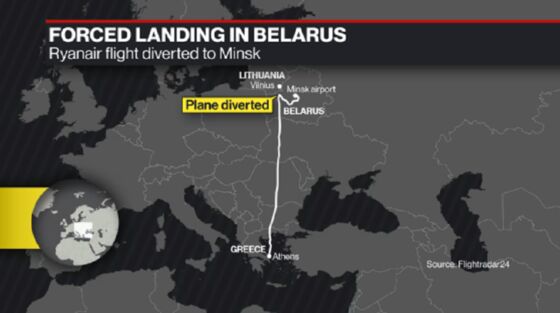 Russia state television praised Belarus's handing of the situation, while Kremlin spokesman Dmitry Peskov called Raab's accusation "obsessive Russophobia." In a public show of support, President Vladimir Putin will meet Lukashenko later this week, for the third time this year. Putin and Biden are due to meet June 16 for their first summit.
The EU has already imposed sanctions on dozens of individuals and seven entities, including Lukashenko and other senior government officials, and was already working on a new round of measures to present next month. In light of this weekend's incident and the mandate provided by EU leaders, those new restrictive measures are likely to now be tougher.
In addition to adding more people and entities to the list, the bloc could set out action targeting the financial and economic interests of the regime, including companies and businesses owners with ties to the ruling elite. The proposals will be prepared by the EU's foreign affairs arm before they go back to member states for approval.