EU Seeks Consensus on Migration With Merkel's Fate at Stake
(Bloomberg) -- European leaders gathered in Brussels on Sunday for an informal meeting aimed at paving the way to a deal on the management of migration, amid an escalating crisis that threatens to unravel the bloc's passport-free travel area and dissolve Germany's governing coalition.
"This is not about the survival of a chancellor," Luxembourg Prime Minister Xavier Bettel said as he arrived for the meeting. "It's about finding a solution, and I hope a common one, for a migration and asylum policy in Europe. We need that."
Participating leaders arrived with different priorities: frontier countries including Italy seek more assistance from their peers with border protection and a more equitable allocation of refugees between the bloc's member states. Northern countries, including Germany, want to limit "secondary movements" of protection-seekers from the south, where they initially apply for asylum, to the more affluent states of the European core.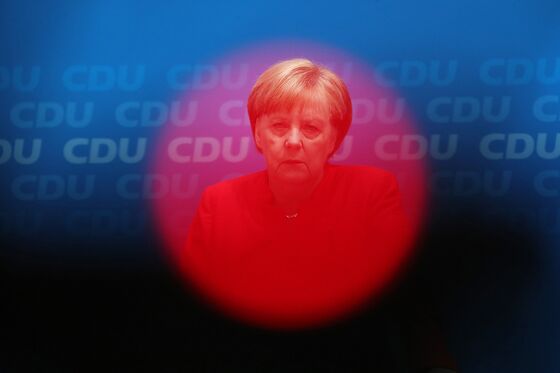 With the bloc's 28 nations at loggerheads over the overhaul of rules that assign responsibility for asylum-seekers to the countries of first arrival but are not in practice enforced, the prospects for an EU-wide immigration agreement are slim, officials familiar with the discussions said. Germany will instead seek a patchwork of bilateral deals with frontier states, which would limit secondary movements in return for financial support and yet unspecified other concessions.
"We know that unfortunately, we won't get a holistic solution to the migration problem at the European summit," German Chancellor Angela Merkel said ahead of Sunday's meeting. "That's why it's also about bi- or trilateral agreements."
Italian Document Presents EU Strategy for Migration
Even as the pace of arrivals has dropped sharply compared with previous years, a hardening rhetoric from Italy's populist coalition and right-wing governments including Austria's has soured relations among the bloc's members. In Germany, Merkel is facing an ultimatum from her Bavarian allies to either strike a deal for limiting the influx of asylum-seekers by the end of this month or face a mutiny that could trigger snap elections.
"This is a political crisis we are going through," French President Emmanuel Macron said as he entered Sunday's meeting. "Let's seek efficacy because we are guarantors of the cohesion of our countries and of our people," he added.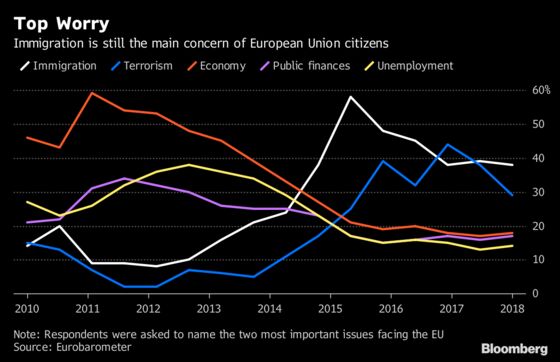 EU government officials in Brussels said that if Merkel gives in to the demands of Bavaria's Christian Social Union party to turn away refugees already registered in other EU countries at the border, then the entire Schengen Area of paperwork-free travel -- one of the bloc's landmark achievements -- would be at risk of collapse.
Adding to her woes, Italy has said it won't agree on a deal to limit flows towards Germany unless there's an agreement to spread the burden of migration. But the so-called Visegrad countries of Czech Republic, Hungary, Poland and Slovakia, as well Austria, won't sign off to any revamp of common rules that would force them to receive refugees from frontier countries.
Italian Prime Minister Giuseppe Conte presented a new migration plan, which seeks to reform the so-called Dublin rules for the allocation of asylum-seekers. The proposal says that EU nations have a joint responsibility to tackle the migration crisis and each member should establish entry quotas for economic migrants, according to a copy of the plan seen by Bloomberg. The document also says there must be financial countermeasures for states that do not offer to welcome refugees.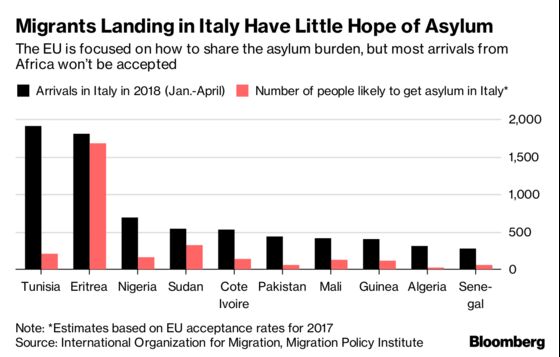 In a sign of a widening rift, the four Visegrad leaders didn't join Sunday's informal meeting, which is convened by the president of the bloc's executive arm, Jean-Claude Juncker. Only 16 nations confirmed participation ahead of the gathering, while EU President Donald Tusk, who normally presides over gatherings of leaders, has refused to attend.
A formal EU summit is scheduled for June 28, in which migration will be among the key topics.
"Today is not about an inner German fight," Austrian Chancellor Sebastian Kurz said on Sunday. "A European solution for the migration problem is possible."