EU Coal Laggard Faces Snags in Plan to Spinoff Dirty Assets
(Bloomberg) -- Poland's plan to carve out coal-fired power plants sparked a rally in the country's biggest utilities. Now for the hard part -- approving it.
Deputy Prime Minister Jacek Sasin's proposal, which would free up state-owned companies to invest in clean energy, has to win over trade unions, the European Union's executive and gain approval from Poland's bickering coalition government. None of these steps will be easy and could delay the plan beyond 2022.
At stake is the future of Polish utilities that have been hit hard by the surging cost of greenhouse emissions in the EU as it shifts toward renewable energy. Burning coal still accounts for 70% of the electricity generated in the bloc's most carbon intensive nation.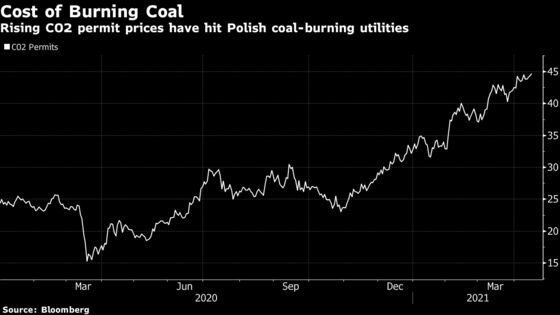 "There is no doubt in my mind that the spinoff is going to happen," said Michal Kozak, an analyst at Trigon brokerage in Warsaw. "Otherwise, the companies could even go bankrupt."
The plan, based on a German overhaul and designed by Sasin's State Assets Ministry, proposes setting up a state vehicle -- the National Agency for Energy Security. Starting from next year, it would start taking over the 70 coal-fired units owned by state-controlled utilities PGE SA, Tauron Polska Energia SA and Enea SA.
In doing so, power producers will be able to focus more on renewable energy and help the country's green transition, which the government said may cost about 1.6 trillion zloty ($423 billion) by 2040.
The news that Sasin's proposal is ready to be discussed by the government sent shares in PGE, the country's largest power group, 16% higher last week and to a 16-month high on Monday. The shares are 0.4% down at 9:45 a.m. in Warsaw.
Trade union representatives have already sought to dampen market optimism. Piotr Serafin, one of the labor leaders at Tauron, said last week that the revamp is so complicated that it may require more time than the government predicts.
The approval from Prime Minister Mateusz Morawiecki's cabinet is also far from certain. The coalition's junior party of Justice Minister Zbigniew Ziobro has made its opposition to EU's climate policy a rallying cry to win support among coal miners in the country's industrial south. No official draft of the plan has been published.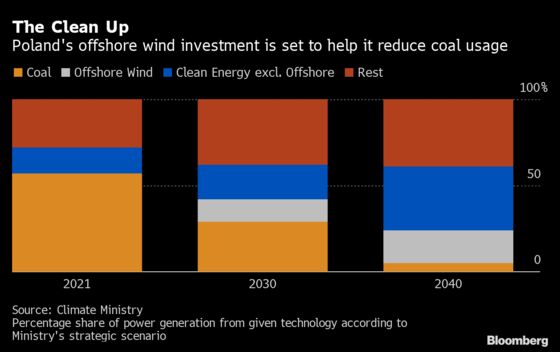 Whether the plan will be implemented rests with the EU's executive's willingness to allow Poland to effectively keep funding the coal industry -- as the spun-off assets are likely to require state aid. There's also concern over its impact on the bloc's 2050 climate neutrality goal.
Sasin expressed confidence on Monday that the EU understands Poland predicament and "has in the past agreed to various compromise solutions, which took into account the specificity of the Polish energy system," he told BiznesAlert.pl. Some analysts are less convinced.
"Getting the EU approval will take many months and the expected result is doubtful," said Wojciech Kukula from ClientEarth, an environmental law firm. "It will be more and more difficult to fool the European Commission with another quasi-reform, which as a matter of fact, is nothing more than an attempt to extend financing of the coal industry."
Pawel Czyzak, an analyst at Instrat think-tank in Warsaw, said the creation of a government vehicle for coal-fire plants could compromise the EU's carbon emissions targets and that "it's obvious the European Commission will not agree."