EU Looks to Open Borders After a Year of Pandemic Isolation
(Bloomberg) -- The European Union aims to take a significant step toward a return to normalcy with plans to reopen its borders after months of pandemic-induced restrictions.
Just in time for the summer travel season, Spanish, Italian and Greek beaches along with cities like Paris, Rome and Berlin would be able to welcome travelers who have been fully inoculated against Covid-19, under a proposal by the European Commission.
It's "time to revive the EU tourism industry and for cross-border friendships to rekindle -- safely," Commission President Ursula von der Leyen said on Twitter.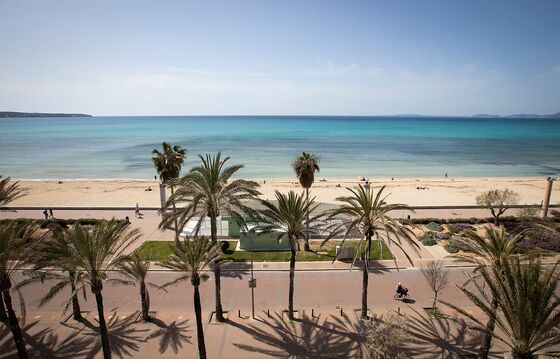 While still battling a third wave, Europe is showing signs of gaining control of the disease, which has infected more than 30 million in the region. Lockdowns in several countries are being loosened as contagion rates ebb and inoculations ramp up.
The EU's executive arm recommended welcoming visitors from countries with relatively low infection rates as well as those who are fully vaccinated, according to a statement Monday. The proposals require approval from a weighted majority of the bloc's 27 member states and could be adopted as soon as the end of May, according to a commission official.
The new parameters would replace a blanket ban for non-essential travel to the EU for residents of all but a handful of countries. The rules have been in place for more than a year and represented a bitter blow for a region that prides itself on open borders.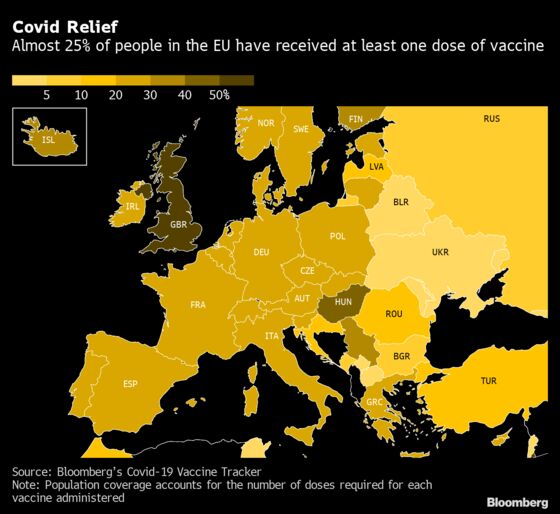 Under the proposal, member states would be obliged to accept proof for all shots approved in the EU -- including those produced by Pfizer Inc.-BioNTech SE, AstraZeneca Plc, Moderna Inc. and Johnson & Johnson.
National governments will have the discretion to accept shots that have cleared the World Health Organization emergency use listing process, but they can't recognize other vaccines on their own. This means people inoculated with Russia's Sputnik or the Sinopharm and Sinovac shots from China will not be allowed to travel freely to the EU solely based of their immunization status.
The new rules include a so-called emergency brake, which would allow member states to restore travel bans on countries where risky new variants emerge or contagion rates spike. In such an event, only essential workers, such as diplomats and health-care staff, would be allowed entry from those countries, and even then, they would be subject to strict testing and quarantine requirements.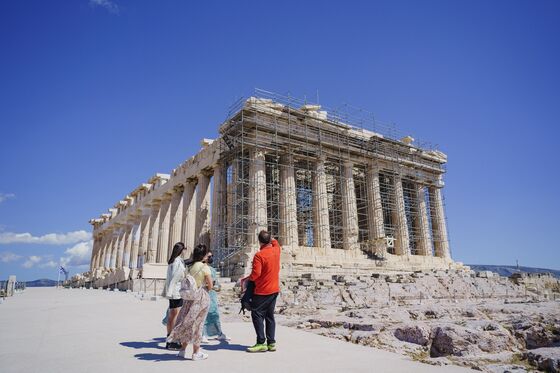 Faced with a sector crippled by the pandemic, tourism ministers from Group of 20 nations are expected to approve guidelines on issues including safe mobility when they hold a virtual summit on Tuesday. The G-20 -- the forum that brings together the world's major economies -- is expected to support measures for so-called vaccine passports, including the EU's Green Digital Certificate.
The next step in the EU's approval process will happen on Wednesday when member-state representatives convene in Brussels to discuss the proposal.
A commission official told reporters in Brussels that Israel will definitely be on the list of countries whose vaccinated residents are allowed to travel to the EU. Reciprocity will also be considered as a factor for easing leisure travel, the official added when asked about U.K. residents.
The commission will draw up a list of approved vaccination certificates issued by non-EU countries. Discussions with Washington will hopefully lead to the introduction of a uniform certificate that meets the EU's security and accuracy standards, the commission official said.
Who Will Be Allowed Quarantine-Free Travel in Europe:
Residents of EU countries holding a Digital Green Certificate -- a planned document that will show the bearer has been fully vaccinated, has immunity through recovery from the disease or recently tested negative.
Residents of non-EU countries who can prove full vaccination with shots approved by the EU's drugs regulator and, potentially, shots cleared by the WHO. The European Commission will come up with a list of vaccination certificates issued in non-EU countries that will be recognized.
Residents of a "white list" of non-EU countries deemed to present a low risk of spreading the disease. The list will be updated based on the epidemiological situation and requires a 14-day case notification rate of new confirmed Covid-19 cases of less than 100 per 100,000 inhabitants. The previous threshold was 25.