EU Leaders Just Aren't Sure They Can Trust Theresa May Anymore
(Bloomberg) -- When Theresa May asked European Union leaders to trust her on Thursday it brought back painful memories for many of them -- of the last time they got burned by a British prime minister in trouble.
Almost three years ago, David Cameron made a similar appeal at a similar gathering in Brussels.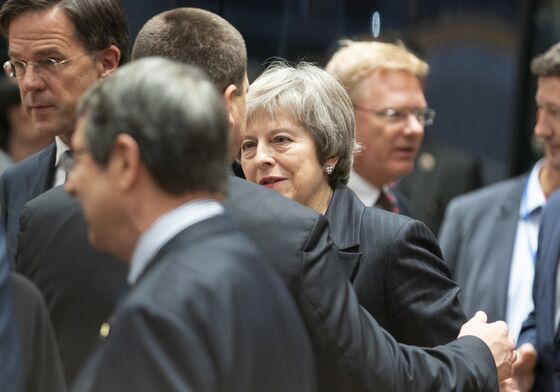 Cameron was trying to persuade skeptical EU leaders to change the terms of Britain's membership of the bloc. But they were worried that more U.K. exemptions would weaken their common rules.
He told them not to worry -- the concessions would be worth it when his Remain campaign won the Brexit referendum.
Europe's leaders haven't forgotten that.
Eighteen of those who were there to hear Cameron's appeal were present again last night. When May asked them to set aside concerns about Britain's domestic politics all over again, they remembered how they'd been let down before, three EU diplomats with knowledge of the discussion said.
The EU fears that giving more ground to May won't solve her underlying problem and the Brexit hardliners will just keep sending her back for more.
"We can't have a situation whereby any negotiating party -- and this is true for any treaty or agreement -- comes back every couple of weeks following discussions with their parliament looking for something extra," Irish Prime Minister Leo Varadkar said after the summit. "You can't operate international relations on that basis."
They already held a special summit in November to sign off on the Brexit agreement and May was back less than three weeks later seeking new concessions. Last night plans were being drafted for yet another meeting in January.
Before EU leaders are prepared to put that into their schedules they want to know it won't just be another futile gesture in a potentially endless Brexit saga. And they aren't clear that anything they could give her would be enough to seal the deal with U.K. lawmakers.
"The signals we got are not especially reassuring," Belgium Prime Minister Charles Michel said on Friday morning.
Chancellor Angela Merkel led the questioning, according to two people familiar with the situation, and May failed to come up with a satisfactory proposal to make the so-called Irish backstop more palatable without undoing the deal they spent 17 months hashing out.
The changes she asked for were either vague, or impossible, such as putting a one-year sunset clause on the backstop. When Merkel said that such a concession would undermine the draft treaty, May had no answer, a diplomat said.
Why Ireland's Border Commands Its Own Brexit Backstop: QuickTake
The frustration was palpable on Friday. Luxembourg's Prime Minister Xavier Bettel summed it up: "No, no no, no, no. There will be no new negotiations."
European Commission President Jean-Claude Juncker emerged from the meeting complaining that the debate was "sometimes nebulous."
An EU official said diplomats were livid with Juncker for his aggressive tone, which didn't reflect the genuine desire of leaders to help May sell the deal. Footage showed a tense exchange between Juncker and May in the summit chamber on Friday morning. Dutch Prime Minister Mark Rutte, considered May's biggest ally in the Brexit debate, is seen intervening between the two.
The danger for the U.K. is that in just 16 weeks' time, the country is set to leave the bloc, with or without a deal in place to cushion the blow.
The glimmer of hope is that the last disastrous summit May suffered through -- in Salzburg in September -- proved a prelude to the Brexit agreement less than two months later.
For now, the British are putting a brave face on another diplomatic failure.
"The EU is clear as I am that if we are going to leave with a deal this is it," May told reporters after the summit. "We will be working expeditiously over the coming days to seek those assurances that MPs need."