EU Said to Lean Against a Merger of Italy Broadband Networks
(Bloomberg) -- The European Union's antitrust arm would likely oppose Italy's plan to create a single national broadband network controlled by former monopoly Telecom Italia SpA, according to people familiar with the matter. Telecom Italia shares fell as much as 7.4%.
EU competition officials led by Margrethe Vestager are concerned that a proposed combination of Telecom Italia's landline network and its smaller, state-backed rival Open Fiber SpA would create a monopoly, reversing two decades of deregulation, said the people, who asked not to be identified as the deliberations are private.
Telecom Italia Chief Executive Officer Luigi Gubitosi has been pushing for an Open Fiber deal for months, and has made it clear the company won't cede control of the network once it becomes Italy's single provider of wholesale fixed-line broadband access.
It plans to design a full set of corporate governance remedies to guarantee the rights of minority shareholders, according to another person familiar with the matter.
However, EU officials are wary of a wholesale-only carrier being controlled by the country's biggest communication service provider, the people said. It is common for companies to discuss their tie-up plans informally with antitrust officials before any official notification.
Italian Finance Minister Roberto Gualtieri "has regular contacts with Margrethe Vestager and EU competition officials and they spoke recently. There is no awareness of a potential EU veto on the plan," a Treasury official said. "There is instead, a common shared goal of providing Italy with modern digital infrastructure."
Telecom Italia shares saw their biggest intraday decline since June when trading opened on Thursday. The stock was down 3.5% at 3:01 p.m. in Milan.
A representative for Telecom Italia declined to comment. The European Commission said in an emailed statement that it "is following the developments closely," and declined further comment.
The EU's view will matter as it could potentially block a deal if it's ever formally agreed, even though both companies are based in Italy and the bloc weighs in mostly on cross-border tie-ups. The EU has frequently refused to allow national authorities to review telecoms deals even when they are within a single country.
What Bloomberg Intelligence Says:

A merger would deprive the country of infrastructure competition, unlike the majority of European countries, since Italy has no alternative cable network. Behavioral remedies may be required, such as having Telecom Italia reduce its stake and limit board nominations, similar to Johnson & Johnson's acquisition of Actelion Pharmaceuticals.

-Erhan Gurses, analyst

Click here to read the research
The idea of unifying the country's landline infrastructure has strong government backing. Prime Minister Giuseppe Conte has made fixing Italy's slow broadband speeds a top priority as part of a wider push to give the state a deeper role in the economy.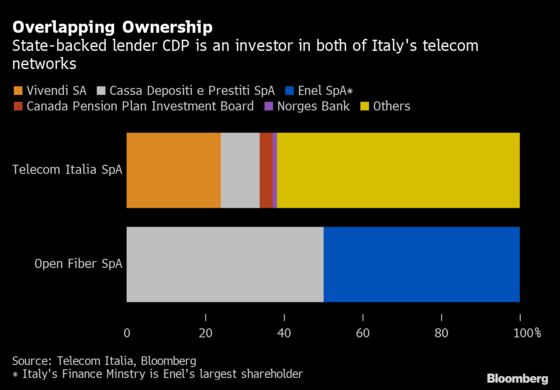 The plan is moving ahead after months of deliberations between the government, Telecom Italia and state investment vehicle Cassa Depositi e Prestiti SpA -- a major shareholder in Telecom Italia that also owns half of Open Fiber.
Telecom Italia has already begun a process to separate its fixed-line infrastructure to raise much-needed cash. The debt-encumbered business has been shrinking in the face of tough competition and a lackluster Italian economy.
Last month, it agreed to sell a 37.5% stake in a new unit that will own the landline cables running from streets to homes and businesses -- the so-called secondary network -- to investment firm KKR & Co. for 1.8 billion euros ($2.1 billion).
The new company, FiberCop, will have an initial enterprise value of 7.7 billion euros. Telecom Italia sent a preliminary notification to the EU of its FiberCop plan earlier this month, according to one person familiar with the matter. EU officials see this first step as less problematic than a subsequent Open Fiber merger, the people said.