EU Eyes Quick U.S. Trade Pact to Avoid Trump Car-Duty Threat
(Bloomberg) -- The European Union vowed to seek a quick and limited trade accord with the U.S. in the hope of keeping at bay the threat of American tariffs on EU cars and auto parts.
The pledge at a gathering of commerce ministers from the EU in Innsbruck, Austria, on Friday showed that Europe is still trying to understand the trade-policy intentions of U.S. President Donald Trump's administration and wary of being wrong-footed.
At stake is how to carry forward a deal in July between Trump and European Commission President Jean-Claude Juncker that put on hold possible U.S. automotive duties based on the same national-security grounds the White House used to impose controversial levies on foreign steel and aluminum.
The two leaders agreed on July 25 in Washington to work toward the elimination of tariffs on industrial goods traded between the EU and U.S., setting up a working group that had its political kickoff in September. Both sides also held out the prospect of an eventual settlement to the dispute over the U.S. metal levies, which prompted the bloc to retaliate with tit-for-tat duties on American goods.
"After the meeting of Trump and Juncker, there are clear signals of wanting to work together," Economy Minister Margarete Schramboeck of Austria, current holder of the EU's rotating presidency, told reporters on Friday in Innsbruck. "We in Europe need to stand united and strong."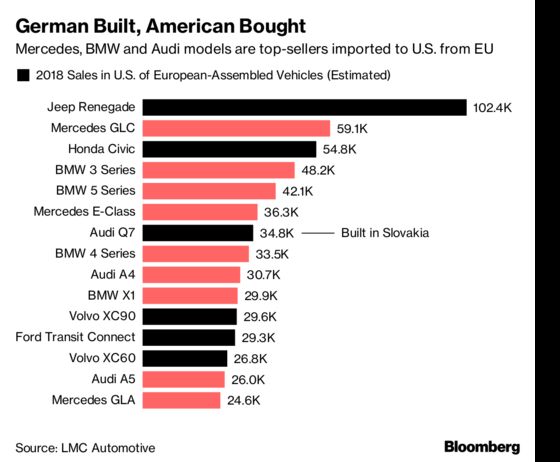 The current ceasefire in the trans-Atlantic trade battle risks coming to an abrupt end and sparking the kinds of escalating attacks featured in the U.S.-China fight should Trump revive the threat of auto duties against Europe. The value of EU automotive exports to the U.S. is about 10 times greater than that of the bloc's steel and aluminum exports combined, meaning European retaliatory levies would target a bigger amount of American exports to Europe.
"The working group needs to come to closure," Dutch Minister for Foreign Trade Sigrid Kaag said in Innsbruck. "A good result," she said, would be "that trade restrictions are off the table, the knife is off the table, that we come back to a level playing field."
France's junior foreign-affairs minister, Jean-Baptiste Lemoyne, said the European goal is a "restricted" market-opening accord with the U.S. covering "certain industrial sectors" and regulatory cooperation. He said Europe would reject any U.S. effort to include agriculture in the scope of the trans-Atlantic talks.
"The red line for France and the European Union are farm products," Lemoyne told reporters.
European officials have signaled confusion over whether the U.S. wants cars to be covered in any trans-Atlantic deal lowering industrial tariffs, while stressing that the EU would be prepared to cut or scrap its 10 percent duty on foreign autos -- higher than the comparable U.S. levy of 2.5 percent. A joint U.S.-EU statement from July 25 refers to a goal of zero tariffs on "non-auto industrial goods."
In the wake of that agreement, a senior EU trade official said the language probably signaled a desire by the Trump administration to maintain a prohibitive American tariff of 25 percent on foreign pick-up trucks. One in six passenger cars sold in the U.S. is a pick-up, with no imports into the country, according to a paper from June by the Brussels-based commission, the EU's executive arm and trade negotiator.
Asked on Friday in Innsbruck whether the EU had any more clarity on this question, European Trade Commissioner Cecilia Malmstrom said: "not really."
Malmstrom also said the that, while any additional U.S. tariff on European cars "is not around the corner" because a Trump administration investigation into the national-security aspects of automotive imports continues, "it could absolutely happen."
She repeated that, should Trump revive and act on his threat, the EU would respond as it did to the U.S. metal duties through retaliation, that the number of targeted American products would be "much" bigger and that the "more extensive" list is "in preparation."
German Economy Minister Peter Altmaier signaled a wish for cars to be covered in any trans-Atlantic accord to lower trade barriers by saying such a deal should include as many industrial goods as possible.
"We want to push forward with the negotiations with the U.S. on a joint solution that prevents a trade war," he said. "'Time is running out."