EU Emissions Fall By a Third Since 1990 as Renewables Grow
(Bloomberg) -- European Union greenhouse gas emissions fell to the lowest level in at least 30 years in 2020, when renewables overtook fossil fuels as the region's main power source for the first time, the bloc said in a report on the eve of a crucial climate summit.
EU emissions last year dropped 10% from 2019 levels, mainly as a result of reduced consumption during Covid-19 lockdowns and the increased use of clean energy, according to the annual State of the Energy Union report by the European Commission. Climate-warming pollution is down 31% since 1990, driving the EU closer to its target of a 55% reduction by the end of the decade.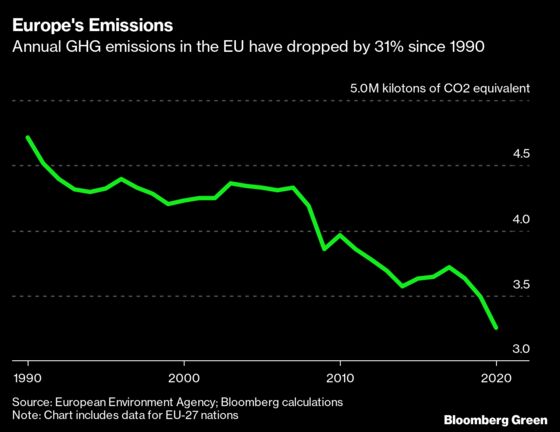 The report comes as climate diplomats gather in Glasgow this week for United Nations climate talks billed as a make-or-break event to curb global warming. With EU and other world leaders scrambling to respond to the energy crisis that's threatened to upset a post-pandemic economic recovery, some of the summit's climate goals may prove harder to achieve.
Increased investment in green energy will be crucial to boost resilience to the market turmoil that drove power and gas prices to record highs earlier this month. The report highlighted the EU's increased dependence on energy imports, which reached a 30-year high of 61% in 2019 due to a combination of increased demand, reduced domestic fossil-fuel production and insufficient renewable capacity.
Overall investment in renewables grew in 2020 to 48.8 billion euros ($57 billion), up from 32.9 billion euros in 2019, with additional capacity driven mainly by offshore wind and solar energy, the report showed.