EU Carbon Price Hits a Record 41 Euros as Rally Speeds Up
(Bloomberg) -- European Union carbon permits surged to a record as speculators bet on stricter policies to meet emission-reduction goals and demand from industrial buyers for the pollution rights.
Carbon futures cleared 41 euros a metric ton for the first time in the EU's 16-year-old cap-and-trade emissions market, the largest in the world. The contracts have climbed 26% this year, and are up five-fold since 2018.
The carbon market imposes a price on emitting greenhouse gases through tradable allowances, covering almost 12,000 energy-using facilities that are required to surrender the permits to account for their emissions. As the EU ramps up its climate goals, the trading system is central to driving the switch to lesser-polluting technologies.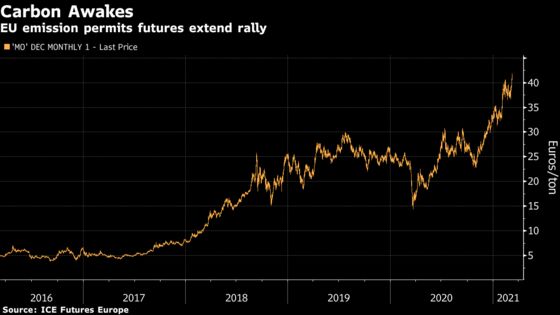 Carbon futures rose as much as 3% to 41.85 euros ($49.05) per metric ton on Wednesday.
This year's rally kicked off when there was less supply in the market than normal because the EU delayed the start of auctions to sell permits. Even after auctions resumed, market rates continued up, driven in part by speculation from hedge funds.
When prices dipped below 37 euros in recent weeks, industrial buyers have come in to scoop up permits. Industries covered by the market need to have enough allowances to match for their emissions each year.
"The dip-buying and subsequent gains at the back end of last week continue to suggest the market is well supported," Tom Lord, head of trading and risk management at Redshaw Advisors Ltd., wrote in a note.
With oil prices gaining recently, Swedish bank SEB AB sees carbon going even higher.
Any political news or attention can also add further fuel to the carbon rally. U.S. climate envoy John Kerry spoke in Brussels yesterday to encourage cooperation with the U.S. to push climate action.
Carbon's rally has caught the attention of the EU, as the pace of the price gains spark concerns it will hurt the competitiveness of the bloc's industries. The EU needs to analyze the impact of investor speculation on the market in its planned overhaul of the market later this year, Denmark's Climate Minister Dan Jorgensen said.
Read more on the carbon rally here:
Carbon Traders Should Get Ready For the Next Rally, SEB Says