Etsy Surges to Record High as Analysts Cheer Growth Outlook
(Bloomberg) -- Etsy Inc.'s fourth-quarter sales surpassed expectations, sending shares to their highest level since the company's 2015 initial public offering.
The results, which included a fourth-quarter revenue beat and a 2019 sales growth forecast of 23 percent to 25 percent, caused Loop Capital to boost the shares to a Street-high price target of $80. Meanwhile, RBC, which rates the shares neutral, became more constructive on the stock as management continues to "craft its way up." Analysts were especially impressed that the full-year guidance beat expectations even as the Brooklyn, New York-based online seller of handcrafted and vintage items scales back on its marketing spend in the first quarter.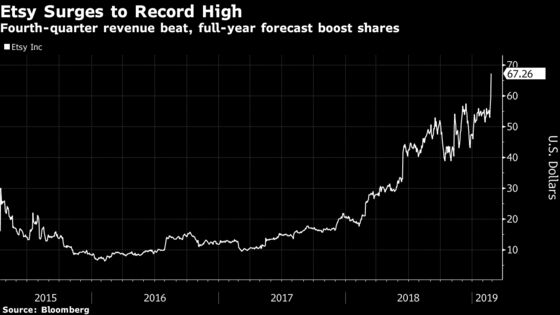 Etsy shares rose 14 percent to $67.31 at 11:01 a.m. in New York as the broader market fluctuated.
Here's what Wall Street is saying:
Loop Capital, Laura Champine
Champine boosted her price target to a Street-high of $80 as Etsy "continues to execute." She says improvements to the buyer experience and marketing investments should drive customer frequency. She also noted that Etsy's first-ever national TV advertising paid off in the fourth quarter and expects a return to that in 2019.
Considering management guided for a first-quarter slowdown in sales because of a scale back in marketing spending, the full-year guidance is "even more impressive," Forte said. "The good news, in our view, is that we believe management's strategy of reinvesting incremental revenue following last year's price increase will result in heightened sales growth for years to come."
The e-retailer has three potential catalysts for stronger-than-expected operating results in 2019: new management's ability to look at the business with fresh eyes, the company's effort to improve mobile conversion, and local international efforts to increase sales between buyers and sellers in the same country.
Rates buy, PT $71 from $63
Etsy continues to "craft its way up," with fundamentals strength, growth acceleration and margin expansion. Mahaney is "more constructive" on the stock after the fourth-quarter "reinforced our view that Etsy is well-positioned to drive long-term growth with improving profitability." He says a large Technology Acceptance Model, strong secular tailwinds, a loyal community of buyers and sellers and new initiatives should help the e-retailer attract and retain customers.
But, shares are now reasonably valued, as Mahaney says he doesn't anticipate this level of sustained fundamental improvement.
Rates sector perform, PT $60 from $52
Deutsche Bank, Kunal Madhukar
The company guided for robust growth in 2019, but with the marketing pull-back early on, first-half growth could be "significantly slower" than the second half as management optimizes its marketing strategy and spend. Unless the e-retailer significantly increases the use of its sellers' promoted listings spend budgets, its most likely chance at beating the top-line guidance is by raising the take rate in the second half, Madhukar said in a note.
The core thesis remains intact, as "the company likely will keep raising take rates on a yearly basis given it still remains significantly cheaper versus eBay and Amazon despite offering its sellers better visibility and higher sales velocity"
Rates buy, PT to $72 from $64