Etihad Airways CEO Says Carbon Offsets Amount to 'Cheating'
(Bloomberg) -- Carbon offsets, used by airlines to show they're neutralizing greenhouse gas emissions, avoid the real challenge of cutting back on CO2, according to the chief executive officer of Gulf carrier Etihad Airways. 
The state-owned company offset 70,000 tons of carbon emissions for one Boeing Co. 787 this year by buying into a forestry program in Tanzania, Chief Executive Officer Tony Douglas said in an interview at the Dubai Airshow on Wednesday. 
"That said, I think offsetting is cheating," Douglas said. "It's a short-term stopgap if you haven't got a more sustainable alternative, but it's cheating."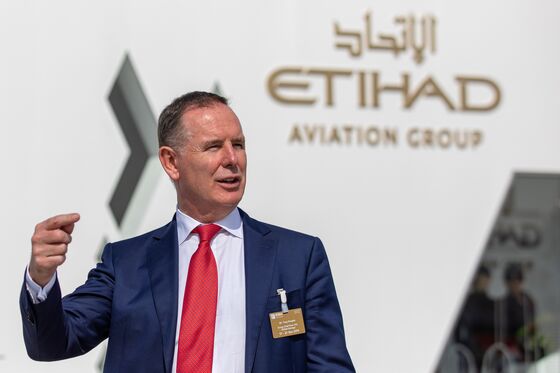 The comments follow a breakthrough agreement reached this past week to create a global carbon market governing emissions trading. While the impact on aviation is still unclear, the Article 6 accord reached at the COP26 climate summit in Glasgow, Scotland, will unify standards in carbon-offset trading, potentially broadening their use.
Douglas added his voice to a handful of airline executives who, along with environmentalists, have challenged the effectiveness of interim measures like tree-planting. 
Etihad still intends to plant mangroves in Abu Dhabi, "so it gets closer to home," Douglas said. "That's still cheating."
Even among carbon-offset critics, there's little agreement on the way forward. Jozsef Varadi, the CEO of Wizz Air Holdings Plc, says offsets and sustainable aviation fuels, or SAFs, take away from progress toward truly transformational technology like hydrogen or electric-powered planes that will directly lower carbon emissions.
Scott Kirby, the CEO of United Airlines Holdings Inc., also has criticized carbon offsets, though he supports much higher use of SAFs across the industry. 
Environmental groups such as the Aviation Environment Federation argue that offsets aren't a long-term solution, and SAFs, which replace the kerosene used as jet fuel, still produce carbon emissions. Their savings depend on the feedstock and process used to create the alternative fuel, whether it's trees, crops, nuts or waste. 
Etihad has been testing ways to lower emissions on current aircraft -- blending in SAF, optimizing flight paths, using electric ground-handling equipment and avoiding contrails, which amplify the global-warming impact of aircraft. In Dubai, Etihad added an Airbus SE A350 to the program, which started two years ago with the Boeing 787, dubbed the Greenliner. 
Among the challenges with SAF are lowering the cost and raising production volumes from minimal levels. Etihad couldn't access enough SAF to blend it 50-50 with conventional jet fuel for a recent Greenliner test flight, so it had to settle for 38%, Douglas said. 
Douglas, echoing other aviation industry executives, is seeking more government funding. while pushing back against measures like taxation and flight curbs that would cut back on flying.  
"It's all very well targeting airlines, which we must," he said. "You need to balance the stick with the carrot, with incentivization."