More Signs of Order Trouble as Garuda Cuts Back: 737 Max Update
(Bloomberg) -- More signs emerged of a weakening order book for Boeing Co.'s 737 Max, after the U.S. grounded the plane and satellite data suggested a link between Sunday's Ethiopian Airlines crash and an Indonesian disaster in October.
Garuda Indonesia plans to slash its remaining order for 737 Max planes and said it may switch suppliers. Meanwhile, French President Emmanuel Macron, who is traveling in Africa, touted talks for Chinese and Ethiopian deals to buy more Airbus SE jets.
France on Wednesday confirmed it's received the black boxes from the Ethiopian Airlines crash and will download the data.
Indonesian flag carrier Garuda trims its Max orders
Flight data and voice recorders arrive in France for decoding
France and China discuss major Airbus order
The U.S. and Canada ground the Max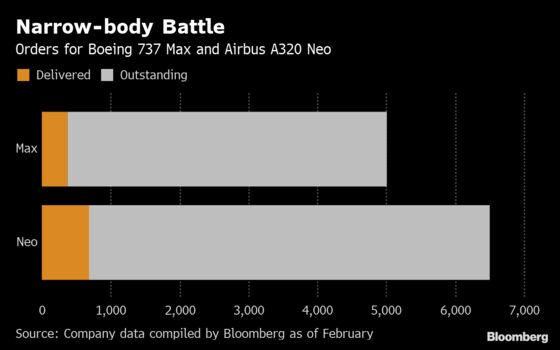 Here are the latest developments (time stamps are for London):
Garuda Trims Orders (10:15 a.m.)
Garuda Indonesia plans to further reduce its orders for 737 Max jets further after Sunday's Ethiopian Airlines crash on Sunday.
The Indonesian flag carrier initially planned to slash its Boeing 737 Max orders to 20 planes from 49 outstanding before the October disaster involving Lion Air flight 610. Now it plans to cut even more, President Director I Gusti Ngurah Askhara Danadiputra, tells reporters in Jakarta.
Garuda is open to switching to other suppliers. A decision will depend on negotiations with Boeing and assurances from the FAA.
Indonesia will send two officials to Addis Ababa to observe the ET302 investigation, NTSC Chairman Soerjanto Tjahjono says in a telephone interview. The agency hasn't received any report from Indonesian carriers of any malfunction with Boeing 737 Max jets since the crash of Lion Air flight 610.
France Has Black Boxes (7:47 a.m.)
The voice and data recorders from the crashed Ethiopian Airlines Boeing 737 Max have arrived in France, a spokesman for the French BEA air-accident investigation office said.
BEA can't say how long it will take to read the data; agency will analyze it if Ethiopia asks.
Xi Jinping will discuss a major order of Airbus SE planes with his French counterpart, Emmanuel Macron, when the Chinese president visits Paris this month, a French official said Thursday. There are "positive signals" regarding the contract, the official said.
Snatching a deal would be a boost for Airbus in a country that's become a battleground with Boeing for orders. Bloomberg News reported in September that chances for an $18 billion Airbus deal had been revived amid China's trade war with the U.S., while Chinese purchases of U.S. goods are part of talks to resolve the two countries' differences -- which could give Boeing a lift.
Macron and Ethiopian prime minister Abiy Ahmed are also discussing a new contract as part of a fleet renewal at Ethiopian Airlines, the official said.
Black Boxes Sent to France (6:36 a.m.)
The voice and data recorders from the crashed plane have been flown to Paris for investigation, according to a spokesman of Ethiopian Airlines. Germany on Wednesday declined a request for assistance, saying it wasn't technically possible.
Boeing Woes Spread to BOC
Aircraft leasing company BOC Aviation fell 4.2 percent in early Hong Kong trading after CICC cut the stock to hold on uncertainty caused by the grounding of the Max. The plane accounts for nearly half the company's undelivered aircraft.
Korean Air, scheduled to operate 737 Max 8 flights from May, said it won't fly the aircraft until its safety is guaranteed.
U.S. carriers moved swiftly to comply with federal orders grounding their Boeing 737 Max aircraft and shift passengers to other flights. The Max makes up about 3 percent of the mainline fleets for three U.S. carriers: American Airlines Group Inc., Southwest Airlines Co. and United Continental Holdings Inc.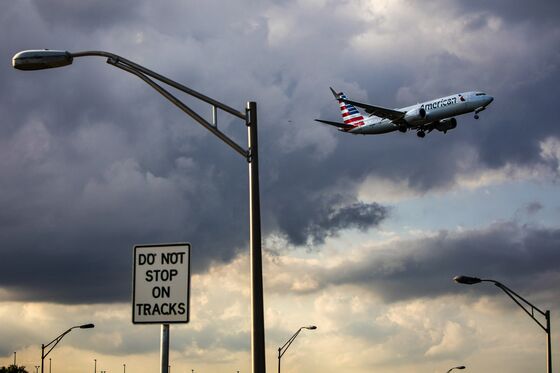 The U.S. Federal Aviation Administration reversed course and grounded the 737 Max, effective immediately once planes in the air reached their destinations. Boeing said it supported the decision and would recommend grounding the entire global fleet of 371 737 Max aircraft.
VietJet Aviation JSC, which doubled an order for the 737 Max to about $25 billion only last month, now says it will decide its plans once the cause of the deadly accident has been found. Kenya Airways Plc is also reviewing proposals to buy the Max and could switch to Airbus SE's rival A320. Russia's Utair Aviation PJSC is seeking guarantees before taking delivery of the first of 30 planes.
Indonesia's Lion Air was already looking at scrapping its Boeing deal after October's crash, but the latest disaster has made co-founder Rusdi Kiranamore determined to cancel the $22 billion order, according to a person familiar with the situation, who asked not to be named as the plans haven't been made public.
Norwegian Wants Compensation
Norwegian Air Shuttle ASA, the biggest European operator of the Boeing 737 Max, said it will ask Boeing to cover the costs of the plane's grounding.
"It is obvious that the costs incurred by the temporary grounding of brand new aircraft should be covered by those who have made the airplane," the company said. DNB analysts have estimated a potential cost of between 5 million kroner ($580,000) and 15 million kroner per day for Norwegian.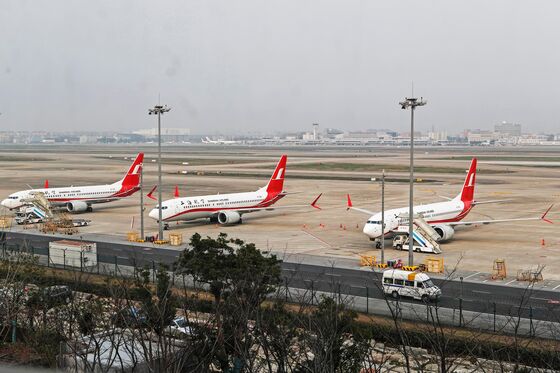 In grounding the 737 Max, centuries-old American allies including the U.K. and Australia broke convention by snubbing the U.S. Federal Aviation Administration, an authority that has defined what's airworthy -- and what's not -- for decades. New Zealand, the United Arab Emirates and Vietnam on Wednesday became the latest countries to block the 737 Max, helping legitimize China's early verdict on March 11 that the plane could be unsafe.
"The FAA's credibility is being tested," said Chad Ohlandt, a Rand Corp. senior engineer in Washington. "The Chinese want their regulatory agency to be considered a similar gold standard."