ETF Investors Feast on Junk Bonds After the Midterms
(Bloomberg) -- Investors in exchange-traded funds are bingeing on junk bonds again.
At least one buyer placed a big bet that the reshaped American political landscape will help boost riskier corners of the credit market. And the two largest ETFs that track U.S. high-yield debt saw a record combined one-day inflow of $1.2 billion on Wednesday.
One investor bought 8 million shares of the SPDR Bloomberg Barclays High Yield Bond ETF, or JNK, worth $287 million at 1:30 p.m. in New York Wednesday. That made up almost 60 percent of JNK's $493 million inflow on the day.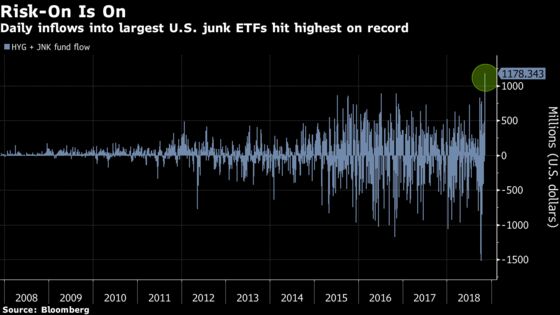 Around the same time of day, two massive block buys also printed for the $15.3 billion iShares iBoxx High Yield Corporate Bond ETF, or HYG, and for the $1.8 billion XtracXtrackers USD High Yield Corporate Bond ETFkers USD High Yield Corporate Bond ETF, ticker HYLB. The iShares fund took in $685 million on Wednesday, the fourth-largest inflow on record, and $455 million on Tuesday. HYLB, meanwhile, had an outflow of $78 million Wednesday.
At QS Investors, a $20 billion money manager, the firm invests in high-yield funds and has tactical models that forecast the relative performance between junk-rated and investment-grade credit. Following the midterm elections, their model began flashing green for the riskier subset, predicting that it will outperform over the next month, according to portfolio manager John Iborg.
"It was mostly a function of change in sentiment for risky assets following the results of the midterms," he said. "It was a needed catalyst for a relief rally following a torrid October."
Junk bonds continue to benefit from low defaults, steady economic output and low supply, even as oil prices slump. The Bloomberg Barclays US Corporate High Yield Bond Index is up 1.6 percent this year, one of only two of 20 key fixed-income benchmarks still in the green for 2018.
Why? Because the search for yield is ongoing, and people are moving to riskier trades to get it, said Matt Maley, equity strategist at Miller Tabak + Co.
"The riskiest trade in the current market is high-yield, so that's where people will go," Maley said. "Whether you're getting paid enough for the risk is another question."