Eskom to Offer Managers Voluntary Exit Packages to Cut Costs
South Africa's debt-stricken power utility Eskom Holdings SOC Ltd. began offering managers voluntary severance packages as part of a program to cut costs.
The board allocated a budget of 400 million rand ($27 million) to the plan, the Johannesburg-based utility said in a statement on Thursday, confirming an earlier report by Bloomberg. It expects to recoup that amount through savings within a year, according to the statement.
The utility will ensure that "no critical skills will be lost" as a result of the program, Eskom said. "The purpose of the separation process is to rationalise management layers, which will lead to an efficiently run company."
Eskom is cutting jobs as it grapples with a 450 billion-rand debt burden. Its headcount fell to 46,665 employees in 2019, about 4% lower than the previous year, but wider staff cuts have been resisted by labor unions.
The voluntary separation package program excludes workers below managerial level, the utility said.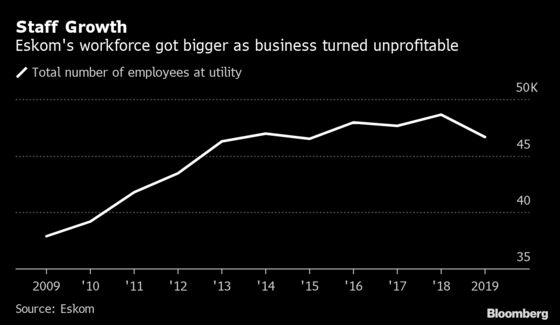 Staff levels remain close to what they were when a World Bank study in 2016 found that Eskom was potentially 66% overstaffed. The workforce has grown more than 23% in the past decade as the business has become loss-making and dependent on government bailouts.
The voluntary packages will be open for managers in non-core positions and those who are 60 to 62 years old, regardless of whether they're in core, critical or non-core positions, according to an Eskom document seen by Bloomberg. Applications will start in the third week of February, with the exits planned by the end of April, subject to Eskom's discretion, it said.