Eskom, Sasol Emit Over Half of S. Africa's Greenhouse Gas
(Bloomberg) -- As South Africa makes efforts to reduce emissions that contribute to climate change, there are two major contributors that produce more than half of its greenhouse gases: Eskom Holdings SOC Ltd. and Sasol Ltd.
State-owned power utility Eskom, which said it accounts for 42% of the nation's total greenhouse gases, uses coal to generate most of the country's electricity from 15 power plants and Sasol, which emits 11%, makes fuel and chemicals from the mineral. The companies are South Africa's two biggest by revenue.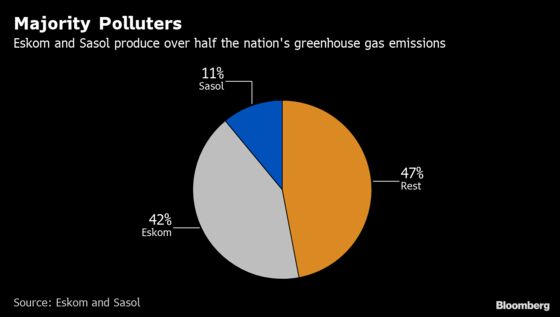 South Africa's emissions by 2025 and 2030 are forecast to be in a range between 398 and 614 million tons of carbon dioxide, the environment minister said in a March report. Greenhouse gas emissions rose over 20% from 2000 to 2015 to 512 million tons and the country is the world's 14th biggest source of carbon dioxide, one place above the U.K., according to the Union of Concerned Scientists.
Measures by the country to reduce emissions, of both greenhouse gas and other pollutants, such as sulfur dioxide will have an effect on the companies. Sasol said some of its South African plants are under threat from sulfur-dioxide emission standards that it will need to comply with by 2025. Eskom has said South Africa's new carbon tax could cost 11.5 billion rand ($806 million) a year in 2023, when the second phase of the tariff kicks in.
In applications for a delay in meeting sulfur dioxide-emission standards Eskom has argued that it is only feasible to fit the requisite equipment at two of its 15 coal-fired plants and has put the costs of compliance at 189 billion rand.