ESG-Linked Loan Boom Hit by Pandemic Push for Short-Term Funds
(Bloomberg) -- The global boom in loans to companies with interest rates pegged to their performance on sustainability goals is stalling this year as the pandemic forces more borrowers to seek short-term funds.
With two months of the year to go, the $77 billion of issuance so far in 2020 is slightly more than half of the amount raised for all of 2019 after Covid-19 forced companies and lenders to focus on more immediate and straightforward financing solutions.
Until the recent slowdown in issuance, the story of the asset class was one of explosive growth. Companies around the globe have raised almost $275 billion of loans with interest rates tied to their sustainability performance since the first such deal in 2017 gave borrowers a mechanism that enables them to attract funding while showcasing their good corporate deeds.
Global sustainability-linked loan volumes almost tripled last year to $143 billion, and jumped ten-fold to $49 billion in 2018 from a mere $5 billion in 2017.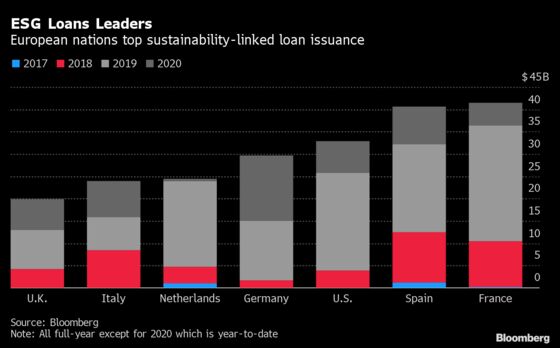 The number of companies using this funding mechanism has grown to 265 worldwide now from just eight in 2017. So far this year, 98 issuers have tapped the sustainability-linked loans market, compared with 128 in 2019 and 45 in 2018.
Under this lending model, borrowers pay higher interest rates when they fail to meet certain environmental, social and governance-linked goals. By the same token, they pay less when they exceed ESG targets.
For example, the Australian engineering firm Downer EDI will add up to 4 basis points, or trim as much as 6 basis points, from its margin based on whether it meets goals on greenhouse gas emissions, indigenous cultural awareness and mental health and first-aid training, according to people familiar with the matter.
European issuers have been the most active in the market, encouraged by a European Union that's keen to promote the region's sustainability credentials. The region accounted for almost 80% of worldwide sales, led by French and Spanish borrowers which raised the highest volumes of loans.
Click here for monthly regional breakdown of sustainability-linked loans.
Utilities firms including Enel SpA, Elia Transmission Belgium SA, and Enerjisa Enerji AS have raised the most loans at more than $70 billion, followed by the industrials and banking sectors. Enel signed its second such loan this month and was the first issuer to also use the structure for bond issuance.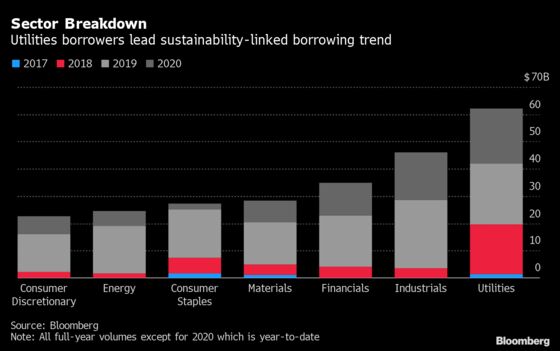 Despite the slowdown this year caused by the pandemic, recent deals for U.K. supermarket chain Tesco Plc, and emerging market telecommunications provider Millicom International Cellular SA show demand for sustainability-linked lending continues to have momentum.
Read more:
Borrowers Flag Commitment to Sustainability as ESG Loans Boom
ESG Lenders Bemoan Data Challenges, Ratings Muddle