Ericsson CEO Hits Stride as Turnaround Rewards Investor Patience
(Bloomberg) -- In Borje Ekholm's first year leading Ericsson AB, he asked investors for patience several times as the company struggled to reverse years of dwindling market share and strategic missteps. Now 18 months into the job, he's hit his stride.
Ericsson's stock surged as much as 11 percent on Wednesday after profitability improved at a quicker pace than analysts had estimated for the second straight quarter at the Swedish maker of wireless networks. The jump contributed to an advance of 39 percent this year, after almost no return in 2017.
Shareholders are gaining confidence in Ekholm's revival plan as aggressive cost cuts boosted earnings and customers embraced new, more lucrative products in the second quarter. After years of falling sales, the company's networks unit saw an increase in revenue, driven by North America, where all major carriers are preparing for fifth-generation networks.
UBS Group AG analysts including David Mulholland said the results were "better than expected across the board for Ericsson with a trend of good execution starting to emerge," in a note to clients.
Ericsson under Ekholm has cut 20,500 jobs since early 2017 as part of a savings plan that's eliminated more than 10 billion kronor ($1.1 billion) of costs. He put the media business up for sale and has refocused Ericsson by renegotiating unprofitable service contracts while maintaining investment in 5G research to prepare the company for when carriers start spending on faster technology in earnest.
Ekholm, a long-time board member at Ericsson, took over last year as chief executive officer after shareholders Industrivarden AB and Investor AB ousted his predecessor Hans Vestberg for missing financial targets and reacting sluggishly to the market collapse.
Some analysts questioned the choice of Ekholm, a veteran executive who led the Wallenberg family's publicly traded holding company Investor for a decade, but who had no operational experience leading a company that size. Ekholm had a rocky start -- in November, he postponed a profitability target set in March 2017 -- but results in the first six months of this year have vindicated his strategy and focus on costs.
Ekholm now sees strengthened momentum for 5G and said Wednesday that Ericsson's existing product portfolio remains attractive and competitive. Coupled with the cost cuts and rising carrier appetite to invest as their customers use more and more data, that momentum has bolstered earnings.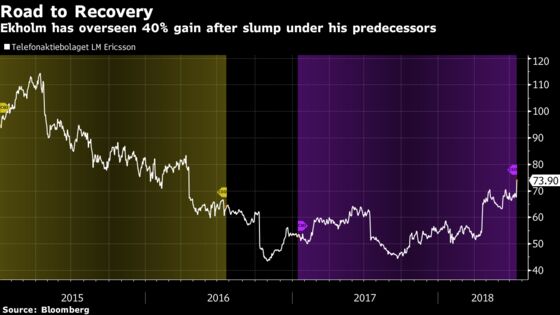 "Demand for data basically doubles every 18-24 months and we're seeing operators investing again in their product offering in order to manage this traffic increase," Ekholm said on a call with analysts.
Ericsson and rival Nokia Oyj expect 5G to boost earnings and sales from 2020. Ekholm said the discussions about 5G have picked up pace in the past six months and the company is seeing more traction than external analysts' reports seem to indicate.
The company's closely-watched gross margin -- or portion of sales remaining after deducting production costs -- rose to 36.7 percent in the second quarter on an adjusted basis, from 30.9 percent a year ago. Analysts had predicted 35.2 percent.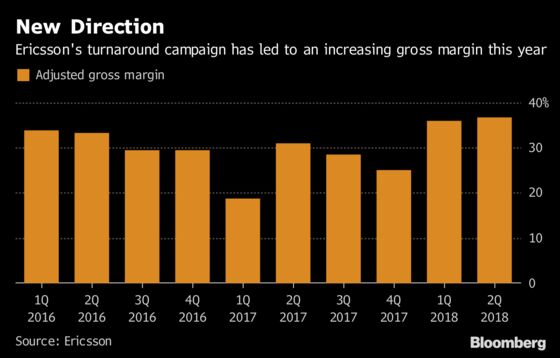 Chief Financial Officer Carl Mellander said that sales in Ericsson's core network unit rose for the first time since 2015 in the quarter.
"This is confirmation that we're on the right track, but we haven't started cooling the champagne," he said by phone. "We have worked very hard to get this far and we will continue doing that."