Erdogan Urges Voters to Focus on Price of 'a Bullet,' Not Food
(Bloomberg) -- Turkey's President Recep Tayyip Erdogan raised the specter of enemies abroad as he sought to counter a homegrown threat to his popularity ahead of elections -- rampant food inflation.
Noting complaints over prices of staples like tomatoes and potatoes, Erdogan on Friday pressed his campaign to stoke nationalist fervor, appealing for Turks to think instead about the "price of a bullet."
"What is the cost of my soldier's uniform and the struggle he's giving against terrorists, think about it!" he said at a rally in the central city of Sivas. "It's our government which is undertaking this" battle. Criticizing officials over food prices only served the interests of foreign powers aiming to undermine the country, he said, dismissively referring to them as "Hans or George."
Chief among Erdogan's foes is the Syrian Kurdish YPG, which he regards as linked to Kurdish separatists battling for autonomy in southeast Turkey. The president has for months been threatening a new cross-border offensive against the Kurds, but has had to balance the possible economic fallout from increased tensions with the U.S., which backs the militia.
The March 31 municipal ballot will be the major first electoral test for Erdogan and his ruling AK party since he assumed vast executive powers last year. High food costs disproportionately hurt poorer sections of Turkey's 82 million population that traditionally have supported the president's party.
Consumer prices rose an annual 20.4 percent in January, compared to the central bank's target of 5 percent. At 31 percent, food inflation is at its highest level since at least 2004. The month-on-month price increases in sweet green peppers and tomatoes were 88 percent and 39 percent, respectively, according to official data.
Erdogan often bashes supermarkets and speculators for the price gains and has vowed to sell cheaper food items to citizens through local authorities. Berat Albayrak, the finance minister, told NTV television late Thursday that municipal sales will start next week, at 50 locations in Istanbul and more than 30 in the capital of Ankara.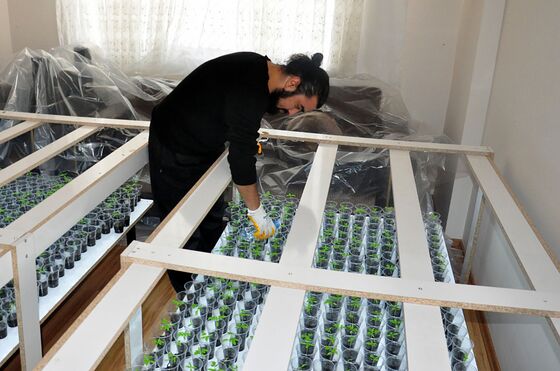 Harun Altinsoylu, a barber in the southeastern city of Kahramanmaras, has come up with an alternative solution to the cost of feeding his family -- filling his home with hundreds of tomato, cucumber and green pepper plants. "We aren't making much money, and we need to economize," Altinsoylu, 32, said by phone.