Erdogan Shreds Saudi Story of Critic's Murder
There's one person Turkish President Recep Tayyip Erdogan didn't specifically mention in his big "naked truth" speech: Saudi Arabia's Crown Prince Mohammed bin Salman.
The Turkish leader laid out damning facts related to the Oct. 2 murder of Jamal Khashoggi at the Saudi consulate in Istanbul, rejecting the Saudi version of events and asking leading questions, including about the location of the body. Erdogan said all indications are that what he called a "political killing" was planned and carried out by a team sent to Istanbul to murder the Washington Post columnist.
"Covering up such an atrocity will harm the conscience of all humanity," Erdogan told his ruling party in Ankara. He called on King Salman to hold all culprits to account, "from the highest to the lowest level." Turkey will pursue the investigation to the end, Erdogan said.
Those comments suggests that while Erdogan may be giving the Saudis a way out, he's also leaving the door open to link the crime to the 33-year-old Crown Prince, known as MBS.
Strategic media leaks by anonymous officials have implied that Erdogan has audio recordings he's using to extract concessions from the deep pocketed Saudis, while also sending a message to the West that Saudi Arabia, under the de facto rule of MBS, is far from a reliable partner.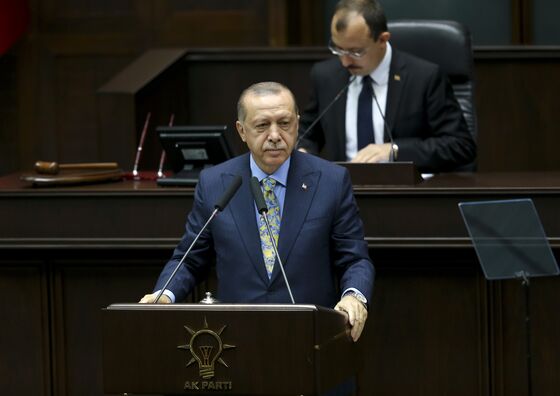 Border wars | Two weeks before elections that will determine control of Congress, President Donald Trump is hardening his immigration stance, a move Democrats hope will help motivate Hispanics to turn out for their candidates. The president, who's looking to fire up his own base, accused Democrats of encouraging illegal voting. He also announced the U.S. is cutting off aid to three Central American countries he said aren't doing enough to stop a migrant "caravan" that he asserted — without evidence — contains "criminals and unknown Middle Easterners."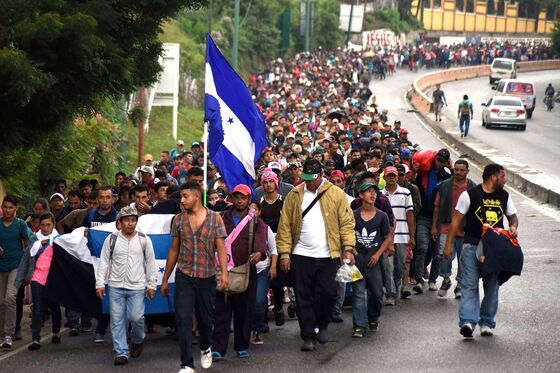 Decision time | The European Commission is primed to reject a European Union member's budget for the first time in its history. Italy has refused to change tack despite repeated warnings that its deficit plans are in clear breach of EU rules. Commissioners gather in Strasbourg to discuss what to do next and their conclusions will be announced this afternoon. Italy could ultimately be fined up to 0.2 percent of its GDP, though that remains unlikely due to the political risks and wouldn't happen for months.
Trump's China challenge | Trump says he wants to prevent a nuclear arms race, but is ready to outspend Beijing if necessary. "We have more money than anybody else, by far. We'll build it up," he said, a day after they said  they are walking away from a missile treaty with Russia, in part to counter China. If that didn't feel enough like the Cold War, the U.S. Navy also sailed two warships through the Taiwan Strait for a second time since July. China considers the island one of its provinces.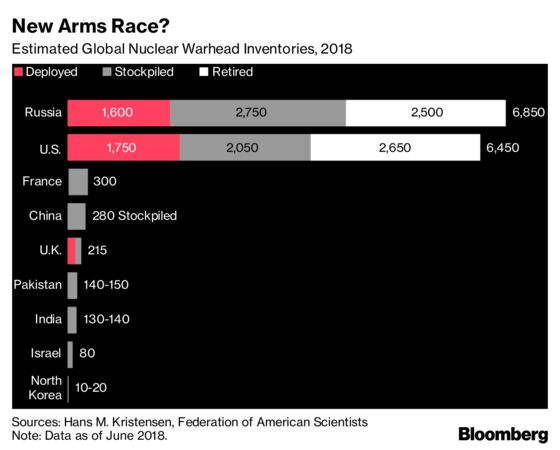 Tax-cuts for all | Trump's surprise call to cut middle-income families' taxes by 10 percent could mean millionaires get a break too, Laura Davison reports. The president said yesterday a plan would be unveiled in the next week or so. Congress would vote on it after the November elections, he added, even though Republican lawmakers say they have no such legislation in the works.
Oil powerhouse | Iraq is fast gaining stature in OPEC after it surpassed Canada this year as the world's fourth-biggest oil producer. But, as Mohammed Aly Sergie writes, for all its petro-wealth, 15 years after the U.S.-led invasion that toppled Saddam Hussein, the country is lacking enough electricity supplies to keep the lights on and is failing to attract the investment it needs to create jobs and spur local businesses.
Theresa May lives to fight another day after members of her Conservative Party said once again they were on the point of throwing the prime minister overboard — but then backtracked — over her handling of Brexit. The latest controversy comes as prominent scientists have voiced concern that a sharp break in ties with the EU or a no-deal exit could spark an exodus of highly skilled specialists, crippling research.
And finally ... Chinese President Xi Jinping today officially opened the world's longest sea crossing, a $15 billion triumph of engineering that more closely knits the former colonies of Hong Kong and Macau to the mainland. The question is: Will anyone use it? Planners have dialed down traffic projects for the 34-mile (55-kilometer) span, since alternatives abound and drivers need three separate permits to use it fully.