Erdogan Edges Closer to Implicating Saudi Prince in Killing
(Bloomberg) -- Turkey is getting closer to laying blame for the killing of journalist Jamal Khashoggi on Crown Prince Mohammed bin Salman, the brash young leader whose ambitions for a modernized Saudi Arabia have been undermined by his penchant for making enemies at home and abroad.
In a widely anticipated speech on Tuesday timed to coincide with the start of what was to be a major investment forum in Riyadh, Turkish President Recep Tayyip Erdogan rejected the kingdom's evolving narratives of Khashoggi's killing at the Saudi consulate in Istanbul. Erdogan -- who didn't mention the prince at all -- then called on his father, King Salman bin Abdulaziz, to bring those responsible to account, no matter their position.
That could be understood as a veiled reference to the 33-year-old royal, who is the real power behind the Saudi throne, according to a Turkish official familiar with Turkey's strategy and demands in the case. Turkey has been pressuring the Saudis to come clean on what really happened at their consulate, rolling out a carefully managed campaign of media leaks that have undermined Saudi versions of the story, while hinting that Turkey knows exactly what happened.
"Erdogan's ultimate aim is inflicting maximum damage on MBS, which entails either removing him completely or at least reducing his control over foreign policy," said Amanda Sloat, a senior fellow at the Brookings Institute in Washington and former U.S. State Department official, using the initials widely used to refer to Prince Mohammed. "As there are limits to what Turkey can achieve alone, Ankara presumably hopes that Trump and/or the Saudi king will take action."
Saudi Arabia has most recently said Khashoggi, a prominent critic of the prince, was killed after a "discussion" at the consulate erupted into a brawl. That account has been questioned by world leaders including President Donald Trump, and the Saudi investment conference was hollowed out after dozens of global business leaders and finance officials canceled.
Power Balance
In his speech to lawmakers in Ankara, Erdogan lavished the 82-year-old King Salman with respect, referring to him as the protector of Islam's holiest sites and saying he trusted Salman's sincerity in getting to the bottom of the case. His failure to mention the crown prince, according to a Turkish official, was an indication he doesn't see the 33-year-old as his political equal.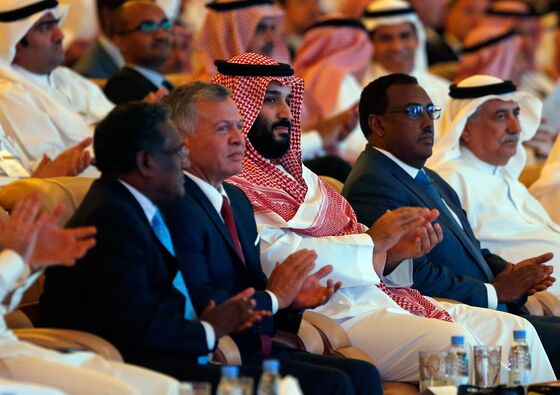 At stake are power dynamics both in Saudi Arabia and in the region. The incident has, in particular, raised new questions about the methods and character of Prince Mohammed, whose ruthless consolidation of power and willingness to project Saudi political and military power on neighbors has won him powerful enemies at home and abroad.
Perhaps none is more formidable and ambitious than Erdogan, who has overseen the region's largest economy for more than 16 years, and has challenged the Saudi royals for the mantle of leader of the Muslim world. Erdogan's appeal has made him a hero for Islamic political groups like the Muslim Brotherhood, which are seen by many rulers in the Arab world as their biggest domestic security threats.
Arab Dissidents
So even as he brutally cracked down on political dissent at home, turning Turkey into the world's leading jailer of journalists, Erdogan has turned his nation into the world's leading safe haven for Arab dissidents like Khashoggi. That, among other issues such as the Saudi isolation of Qatar and policy with regards to Iran and Israel, has inflamed relations between Turkey and a trio of Arab countries including Saudi, Egypt and the United Arab Emirates.
Khashoggi, a columnist for the Washington Post, went into the Saudi consulate in Istanbul on Oct. 2 to get a certificate necessary for his marriage in Istanbul. In an interview with Bloomberg around that time, Prince Mohammed initially said the journalist left the building unharmed. But that narrative gradually changed, culminating in an official admission of Khashoggi's death at the hands of Saudi operatives more than two weeks later.
Generals Involved

Through a series of strategic media leaks by anonymous officials, it's been said that Turkey has evidence that Khashoggi was tortured and dismembered by Saudi assassins who flew in on private jets. On Tuesday, Erdogan said the team that arrived in Istanbul in three separate airplanes included generals as well.
"We have strong indications that this murder wasn't the result of a sudden incident, but rather, was the product of a planned operation," Erdogan told ruling AK Party lawmakers at a meeting at the parliament. All responsible, including people "at the very top," should be brought to justice, he said. Blaming the killing on "a few security and intelligence" officials will satisfy no one, he said.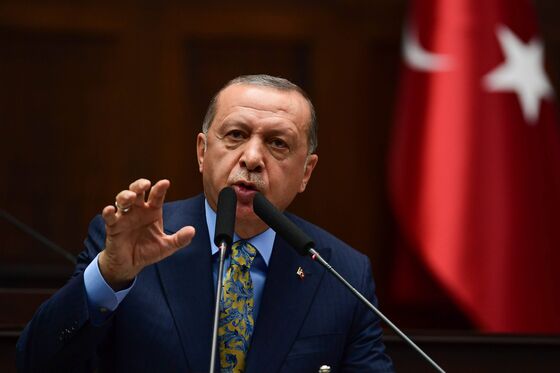 The Saudis promised on Tuesday not only to hold culprits accountable, but to take "corrective measures," state-run Saudi Press Agency reported, citing a weekly cabinet statement that offered no further details.
The leaks have implied that Turkey possesses recordings that are being used to extract concessions from the deep-pocketed Saudis, while also using them to undermine the kingdom's claim to being a reliable partner for the West.
Some influential onetime supporters including Republican U.S. Senator Lindsey Graham are now openly calling for Prince Mohammed to be removed from power. The prince's supporters in Saudi Arabia say he's firmly in control.
Much will depend on the approach of Trump, who has begun to waver on his initial inclination to accept the now-discredited Saudi version of events wholesale. On Monday, he dispatched CIA director Gina Haspel to Turkey to assess Turkey's information in the Khashoggi probe. The Turks have privately warned that Washington risks public embarrassment if it is seen under Trump to be attempting to help whitewash the circumstances around Khashoggi's death.
Erdogan scoffed at the initial Saudi denials that Khashoggi was killed, and assailed the since-fired Saudi consul-general for trying to deflect suspicion by inviting reporters to the consulate building, where he reportedly opened closet doors to show that the journalist wasn't there.