Erdogan's Blitz Gives Turkish Bank Stocks More Reasons to Cheer
(Bloomberg) -- Turkey's banking stocks are the toast of the town.
A weekend of high drama that saw the country's main economic protagonists exit the stage is stoking hopes that Turkey will return to market-friendly policies. While most Turkish assets rallied after the firing of the central bank governor and resignation of the finance minister, local lenders were the star equity performers after lagging behind for most of this year.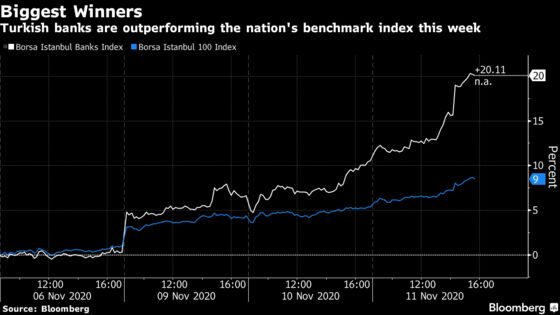 President Recep Tayyip Erdogan on Wednesday vowed to fully support the new central bank governor and the finance minister, even if it calls for "bitter-pill policies," further fanning the rally in the nation's assets. The U-turn comes after years of leaning on banks, and state-owned lenders in particular, to fuel the economy by expanding credit, often at rates below inflation.
"The possibility of a coronavirus vaccine along with increasing expectations of a conventional interest-rate hike from the new economy team lured foreign investors back into Turkish banks," said Akin Tuzun, head of Turkey and Europe Middle East and Africa research at VTB Capital in London.
Turkish banks underperformed both Istanbul equities and their global peers this year "because of additional worries over the lira's depreciation and the economic management" of the country, he said. This week is different, with Turkey's banks accounting for four of the top 10 performing emerging-market banks, according to the MSCI EM Banks Index.
The 12-member Borsa Istanbul Banks Index climbed 20% this week, paring losses for 2020 to 11%. That compares with a 7% gain in the Borsa Istanbul 100 Index to an all-time high, extending gains this year to 12%.
The course of events during the weekend would normally send investors to sidelines. Instead, they fueled a rally in the nation's assets after former Finance Minister Berat Albayrak's two-year-long battle to rein in free markets hurt confidence. The easing on Wednesday of some restrictive policies introduced by the banking regulator last year also gave lenders a bump.
The lira appreciated almost 8% against the dollar this week, the biggest advance among 24 developing-nation currencies tracked by Bloomberg. Yields on Turkey's $2.5 billion of bonds due October 2025 fell 69 basis points to 5.94% on Wednesday, the lowest since they were issued last month at 6.4%.
The Borsa Istanbul Banks Index was trading at 3.42 times expected earnings for the next year on Wednesday, still well below the five-year average of a multiple of five.
The "continued normalization efforts and markets giving the benefit of the doubt to the new economic management helped banking stocks recover from all-time low multiples," said Cagdas Dogan, a banking analyst at BGC Partners in Istanbul. Earnings results for the third quarter and better expectations for 2021 also supported the move, he said.