Erdogan Crossed a Line on Turkey's Democracy: Balance of Power
(Bloomberg) -- Has the Middle East lost its biggest democracy?
Turkey's election board canceled the result of a March 31 mayoral vote in Istanbul and will hold a new ballot next month. That tilts the balance toward an outcome favorable to President Recep Tayyip Erdogan after his candidate lost the nation's biggest city.
The annulment raises serious concerns about whether Turkey can have peaceful transitions of power – during Erdogan's 16-year rule the nation has plunged down most rankings of democratic governance. There's also a question over whether Turkey can afford it.
In the midst of its first recession in a decade, the government went for broke in the March municipal elections: The central bank blew through foreign reserves, while the state intervened in food markets to shield voters from rampant inflation, pressured banks to keep interest rates artificially low and barred foreigners from shorting the lira, sending overnight swap rates surging above 1,000 percent.
Other shocks loom: If Turkey receives Russian missiles it ordered next month, it's likely to face U.S. sanctions. The last thing it needs is more political turmoil, election-related spending and stop-gap measures to shore up its economy.
With Turkey's credibility on the line, even if Erdogan gets Istanbul back, the country won't be the same.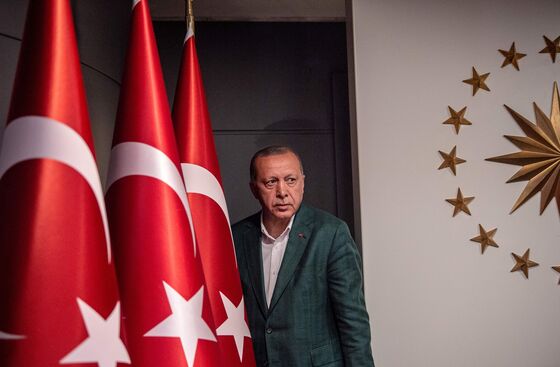 Just in: U.S. Secretary of State Michael Pompeo's planned visit to Berlin was canceled at short notice due to "pressing issues." Pompeo had been due to meet with German Foreign Minister Heiko Maas before dinner-time talks with Chancellor Angela Merkel, both of whom are critical of U.S. policy under President Donald Trump, from trade tariffs to Iran. 

Keeping hope alive | Beijing is signaling it's not ready to give up on a trade pact with the U.S. China's lead negotiator Liu He will visit the U.S. this week despite Trump's threat to raise tariffs on Chinese goods. As for what set the president off? Jenny Leonard, Saleha Mohsin and Jennifer Jacobs report that it was word from his own top trade emissary that China was backtracking on a deal.

It's the economy | Jobs are growing at a faster rate in Trump country than in the Democratic-leaning urban and coastal areas that long had been a main driver of U.S. economic expansion. As Mike Dorning reports, the uptick is crucial to Trump's re-election chances in 2020. The White House and many Republicans are counting on the economy to compensate for the churn of controversies in the administration and the president's low approval ratings.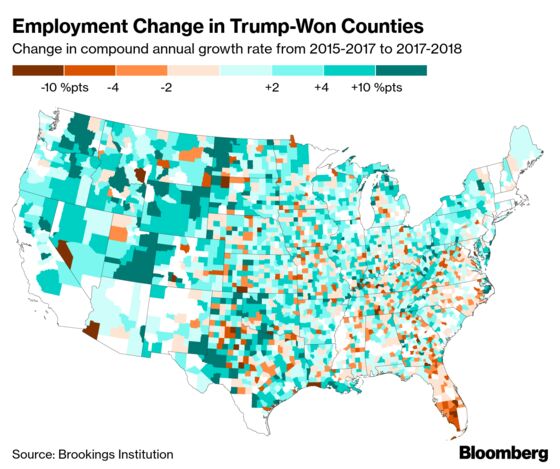 Crude calculation | The Canadian government's likely decision to proceed with a key oil-pipeline expansion before October's election is a risky gambit, Josh Wingrove writes. Prime Minister Justin Trudeau is deeply unpopular in oil-rich areas and relies on environmentalists as part of his center-left coalition. Developing the Trans Mountain project may make economic sense for a country short on shipping capacity, but the political cost could be high.
Election jitters | South African President Cyril Ramaphosa's prospects of emerging from tomorrow's general election with a strong mandate for reform have investors on tenterhooks. With the ruling African National Congress likely to win a majority but remain riven by factions, one-week implied volatility for the rand against the dollar is now higher than any other emerging-market currency including the Turkish lira.
Restless Russians | Most riders of the gleaming express train between Moscow and St. Petersburg barely notice the stop in Okulovka along the way. But as Henry Meyer and Ilya Arkhipov report, the small town has become a center of protest, one of many springing up across Russia as the Kremlin, squeezed by sanctions, cuts spending on health and other services. Support for Vladimir Putin is taking a hit.

What to Watch
Iranian negotiators meet with EU officials in Brussels today to figure out how to move ahead with a special purpose vehicle meant to offer Iran a trade lifeline and incentive not to walk away from the nuclear deal.
The sparring between the Trump administration and congressional Democrats continues: Treasury Secretary Steven Mnuchin rejected a House chairman's request to release Trump's tax returns, while the Justice Department agreed to further talks to resolve a dispute that's led another chairman to threaten to hold Attorney General William Barr in contempt.
Prime Minister Theresa May and opposition Labour Party leader Jeremy Corbyn are set to meet today to potentially sign off on a Brexit deal. That sounds positive, but whatever may be agreed still needs to go to multiple votes in Parliament.
And finally...Reuters reporters Wa Lone and Kyaw Soe Oo were released from prison in Myanmar under a government amnesty after spending more than 500 days behind bars for allegedly breaking the official secrets act. International criticism was heaped on Myanmar and its de facto leader, Aung San Suu Kyi, after the journalists were jailed for their reporting on atrocities against ethnic Muslims in western Rakhine State, work for which they were awarded a Pulitzer Prize.