Equity Contagion Spreads to Credit, Deepening Worries on Growth
(Bloomberg) -- For all the angst about corrections and bear markets in equities around the world, it's credit that's historically been the asset class that delivers the ultimate warning of impending economic trouble. The bad news: debt stress is starting to pile up.
As with the stock slump in late January, premiums on investment-grade corporate bonds compared with government debt have jumped the world over in recent weeks. Whether it's U.S. or European or Asian-dollar spreads, they're now at the highest since 2016 -- back when investors still worried about deflation, and stress levels were high enough that the Federal Reserve hit the pause button on monetary tightening for a year.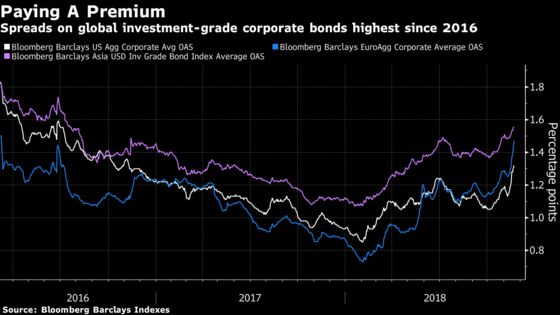 As premiums rise, it becomes more costly for companies to refinance, hurting their ability to expand investment and hiring. In the worst case, a freezing up of credit triggers outright crises.
There's no sign of strains getting quite as bad as seen in the late 1990s to 2002 tech bust or the 2007-09 global conflagration. But with central banks calling time on a decade worth of unprecedented monetary stimulus, conditions are getting a lot tougher.
"Refinancing next year will be harder, particularly for high-yield companies globally," said Ben Sy, head of fixed income, currencies and commodities at JPMorgan's private banking unit in Asia. "Those companies will have to pay up meaningfully, which will eat into their profits in the longer term."
There's more room for spreads to widen as investors are concerned about slowing global growth, particularly a potential U.S. recession in 2020, Sy said. If the credit market continues on its current course, that would further darken the outlook as companies cut back on capital investment, he said.
Among the triggers for the recent widening in spreads has been a slide in oil prices that's hit U.S. high-yield debt because of its high concentration of energy companies. And in the investment-grade space, woes have mounted due to concerns about General Electric Co., the beleaguered conglomerate with a hefty debt load that's seen its ratings downgraded.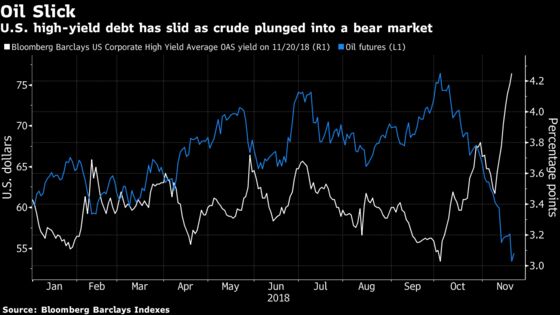 Scott Minerd, the Guggenheim Partners chairman of investments and global chief investment officer, was particularly concerned about the implications of GE, calling attention to it in a tweet last week.
GE's slide has put focus on the question of leverage among companies rated in the BBB tranche -- just above junk -- which could flip to high yield if conditions deteriorated enough.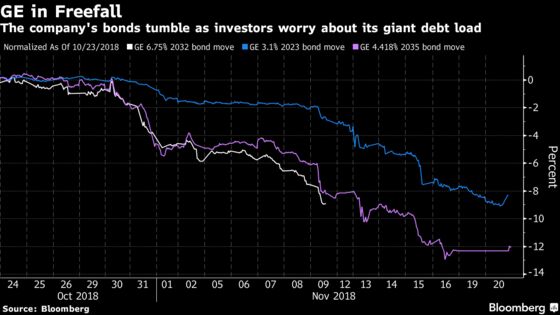 In Asia, China has been a source of rising risk. Property developers in the country are rushing to sell short-term dollar bonds ahead of record debt maturities next year, a move that analysts warn will only increase refinancing pressure down the road. Times China Holdings Ltd., Greenland Holding Group Co. and a unit of China Evergrande Group have all come to the market this week alone, according to people familiar with the matter.
In Europe, investors will be contending with the prospects of the European Central Bank ending its quantitative-easing program, which has included purchases of corporate debt, as soon as January.
Before then, the Fed is projected to hike its benchmark rate another quarter percentage point next month. Paul Winter, head of Asia-Pacific quantitative research at UBS Group AG, said market volatility tends to pick up about two years after the Fed starts ratcheting up rates, which is what's playing out now.
As for how U.S. policy makers will interpret the current strains in markets, Goldman Sachs Group Inc. analysts said credit is key.
"The Fed is likely to continue with their current pace of tightening despite the decline in equity markets," Goldman economists Brian Chen, David Choi and Jan Hatzius wrote in a Nov. 20 note. Since 1994, "the Fed only responds to stock market sell-offs that happen at the same time as widening credit spreads or growth significantly below potential," they said. Yet U.S. growth remains above its longer-term trend and "spreads have widened only moderately," they concluded.