Climate Change Measure, Energy Bill Hitch Ride on Spending Deal
(Bloomberg) -- Chemicals used in air-conditioning and refrigeration that contribute to global warming will be phased out under a bipartisan deal that's being attached to must-pass government funding legislation, a move lauded by environmentalists as a major climate win.
The agreement to limit the use of hydrofluorocarbons would put the U.S. on par with other nations that have either banned or agreed to phase out their use. Supporters of the measure, including trade groups that represent major air-conditioner and refrigerator makers, say the move could help avoid as much as a half-degree Celsius in global warming by the end of the century.
House Speaker Nancy Pelosi and Senate Democratic Leader Chuck Schumer touted the deal in a joint statement Sunday, saying the agreement "fights the climate crisis."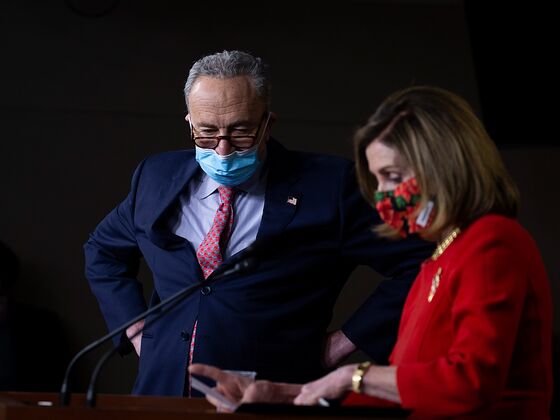 The climate provision will be part of government funding legislation that's poised to become the vehicle for delivering another round of pandemic relief to the U.S. economy, battered by a widening coronavirus outbreak. A vote in the House and Senate could come as early as today.
The legislation also includes an extension of tax credits for wind and solar projects, as well as a bipartisan package of energy bills that includes measures designed to spur carbon capture and utilization, critical minerals mining, and new nuclear energy technologies, according to a summary circulated by Republicans.
The legislation authorizes $35 billion in spending on energy research and development programs including ones related to energy storage, electric vehicles and renewables. It also directs the Interior Department to set a goal of permitting at least 25 gigawatts of renewable power on federal lands by 2025.
While hydrofluorocarbons aren't nearly as bad for the ozone layer as chlorofluorocarbons, the chemical they were designed to replace, they still have hundreds to thousands of times the heat-trapping power of carbon dioxide, according to the Natural Resources Defense Council.
"This is the biggest step this Congress has taken to reduce climate change," said David Doniger, a senior director with the environmental group. Continued use of the chemicals worldwide could add the equivalent of 70 billion tons of CO2 between now and 2050, Doniger said.
Refrigerant makers Honeywell International Inc. and Chemours Co. have supported the phase-out, while Arkema SA of France and Mexichem SAB de CV of Mexico successfully sued to halt an Obama-era rule designed to limit the use of the chemicals.