Enter Bank Plan No. 3: Greece Mulls Debtor Relief
(Bloomberg) -- Greece is trying everything to get its banks back on track, including a direct subsidy to some of their most troubled customers.
The government is working on a plan to lessen the burden for borrowers of modest means who can't repay their debts, according to two people familiar with the project. Though it's not clear how many borrowers would benefit, the aim is to turn as many of their non-performing loans to performing loans as possible, helping the banks, the people said, requesting anonymity as the discussions are ongoing.
Repayments by individuals who want to pay but can't would be restructured into manageable installments, partially subsidized by the Greek state, one person said. While the proposal is in a preliminary stage so far and details haven't been worked out, it should be ready in December, the person said.
Greece needs to unshackle its banks from the bad-loan burden to help revive its economy. Last week, Greek authorities were said to be moving forward with two other proposals to save their banks. One, from the central bank, is likened to a "bad bank" that could be created by splitting off the stricken lenders' tax credits and worst loans; another envisaged a special purpose vehicle for bad debt that might involve a government guarantee and uses state cash buffers.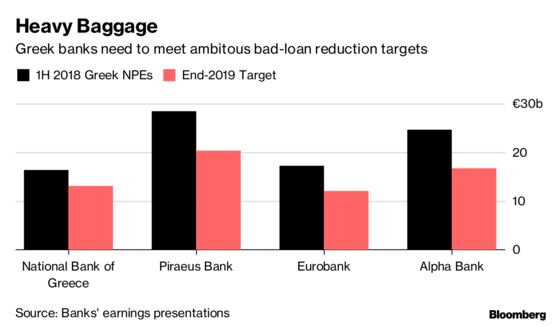 The banks' stocks have plunged by about half this year. Non-performing exposures at the four systemic Greek lenders stood at about 89 billion euros ($102 billion) at the end of June. Banks have already committed to European supervisors that they will cut their bad loans by about 50 billion euros through 2021 in an effort to avoid yet another capital injection.
The shares resumed their slide Monday. The Athens benchmark bank index slid almost 4 percent to the lowest since February 2016. Piraeus Bank SA and National Bank of Greece SA both closed at record lows.
The second person said the proposal would be modeled after Cyprus's "Estia" plan, which is targeted at people with relatively modest incomes and assets. Estia, which means "home" in Greek, may be more generous than what ends up being brought in by Athens.
The Cypriots created a state entity that pays one-third of a restructured loan using funds from the state budget, while the rest is covered by the original borrower. To be eligible, a person's yearly income must not exceed 50,000 euros, their primary residence should not worth more than 350,000 euros, and the rest of their assets must not exceed 125 percent of the market price of their residence.
There will be income and asset criteria in the Greek version, but it's unclear what the thresholds will be, one of the people said. The government wants the plan in place by the beginning of next year, when the "Katseli law" providing some protection to debtors expires.
Ideally, all three plans should be approved by European authorities -- both the European Central Bank's supervisory arm and competition authorities -- and, next year, Greek banks would be able to choose which tool to use -- or even all of them -- to cut their bulk of bad loans, one of the people said.