Engines Likely Working When Kobe Byant Copter Crashed in Clouds
(Bloomberg) -- The area near Los Angeles where Kobe Bryant's helicopter crashed was blanketed by a thick layer of clouds and the craft's engines were operating as it plummeted, a newly released report shows.
The National Transportation Safety Board released several photographs provided by government agencies and individuals depicting the first hard evidence confirming early witness reports that the aircraft entered the clouds before it lost control and slammed into a hillside on Jan. 26 and burned.
Bryant, a basketball legend; his 13-year-old daughter, Gianna; and seven others died in the crash.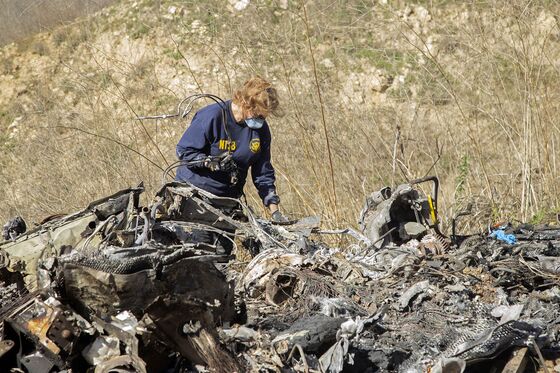 A camera used to scan area mountains for wildfires showed that clouds obscured the hills from 2,400 feet altitude and below, according to the NTSB update. The helicopter pilot climbed to 2,300 feet shortly before the accident, but apparently never cleared the clouds.
Wreckage from the high-velocity impact in Calabasas, California, suggests that the Sikorsky S-76B's engines were operating as it went down, the NTSB report said. That would rule out an engine failure as a reason for the crash.
A witness who was on a mountain bike trail near the crash said the helicopter rolled so far to the left that he could see its belly, the NTSB said. The copter was falling at more than 4,000 feet per minute in the seconds before impact, according to the report.
The NTSB's investigative update didn't include any conclusions about the cause of the crash.