French Energy Giant's Transformation Has Investors Asking: Where's the Payoff?
(Bloomberg) -- When Isabelle Kocher took the reins of Engie SA three years ago, her appointment was pitched as a "cultural revolution" that would rejuvenate the utility. The first French woman to run one of the country's major companies would sell fossil fuel assets and invest the proceeds in renewable energy and sophisticated new services.
As she enters the final 12 months of her first term as chief executive officer, Kocher has delivered the plan, but not the payoff.
Returns to shareholders under her leadership are just a fraction of those from European rivals Iberdrola SA or Enel SpA, even lagging behind troubled power generator Electricite de France SA. Kocher is under growing pressure, both from investors and the French government, to show that her plan to transform the former gas monopoly into a clean power champion will boost profits.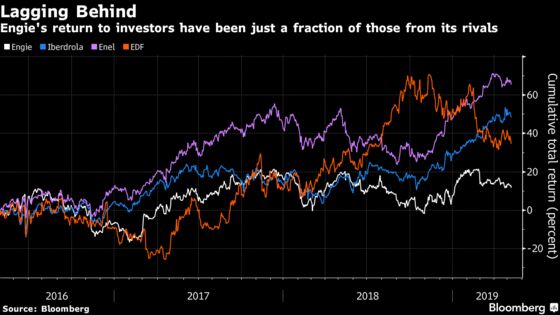 "Strategy is clear, now she must deliver,'' said Tancrede Fulop, an analyst at Morningstar. "Asset sales have been dilutive and there's a bit of skepticism" that the push into higher-value services is "just spin."
Engie's most recent attempt to woo shareholders -- when Kocher presented a new three-year plan in February -- fell flat. She promised that her investments in gas and power networks, renewable energy and dozens of small acquisitions in energy-efficiency services would boost future earnings and payouts. But her outlook disappointed analysts and the company's shares suffered their worst drop in four months.
The French government, which is Engie's largest shareholder with a 24% stake, has doubts about Kocher's plans. One senior official described her strategy as unconvincing and another said the February presentation was disappointing.
Still, there's no clear push from the state for alternative leadership. One of the officials said Kocher will eventually have to be replaced, possibly by Chairman Jean-Pierre Clamadieu assuming both roles, but the other said there's no current plan to remove her. Both asked not to be identified when discussing internal government deliberations.
When asked if the French government has expressed dissatisfaction with Engie's performance under Kocher, the company said that "no such concern has ever been raised."
"Engie's strategic plan is to lead the industry in enabling a cost-efficient zero carbon transition for companies and local authorities," the company said in a statement. "The management team is committed to accelerate the implementation of our strategy and to continue to explain to investors why and how this strategy will create superior value."
President Emmanuel Macron's office declined to comment on Engie's management.
Some investors are willing to give Engie more time. "They are trying to simplify the group and to refocus it on fewer countries, which will give more clarity," said Marine Michel, fund management director at Montsegur Finance. The firm has Engie shares among its 550 million euros ($618 million) of assets under management and considers them "cheap" at a multiple of 12 times earnings, she said.
Still, even patient shareholders feel some frustration. "There's a lack of visibility on this group's activities, with frequent one-offs such as Belgium, impairments, or weather impacts," Michel said.
The French utility's performance has been affected by safety issues that periodically halted some of its seven Belgian nuclear plants, forcing the company to trim profit forecasts and write down the value of assets over a period of several years. Engie has already warned that warmer weather in France in the first quarter will have a negative impact on earnings, which are due to be published on Tuesday.
"Engie has a mixed track record of meeting consensus expectations," Carolina Dores, an analyst at Morgan Stanley, wrote in a note last month. "We therefore expect investors to await evidence of delivery on the growth targets before re-rating the shares."
The heart of Kocher's strategy was to boost earnings by selling oil fields or power plants that burn coal or gas, and reinvesting the cash into regulated electricity and gas networks, or wind and solar power. Since 2016, she's divested 16.5 billion euros of assets.
Engie has reduced its net financial debt to 21.1 billion euros at the end last year from 27.7 billion euros three years earlier, allowing it to be more acquisitive. It recently won an auction to take control of a giant gas pipeline in Brazil, and has considered a takeover of Emcor Group Inc., a U.S. company with a market value of $4.6 billion that installs electrical and heating and air conditioning systems.
"Engie has undergone a profound transformation and focused its development on three core activities: gas, renewable energies and energy efficiency," according to the statement. To boost margins, the company is reducing by half the number of countries where it operates and expanding into "high tech, tailor-made" services such as green mobility and smart grids.
All this should deliver a boost to net income of 7% to 9% on average per year through 2021, with a dividend payout of 65% to 75% of profits. So far, under Kocher's tenure as CEO, she has delivered an average annual return of 3.8% to investors, according to Bloomberg calculations that assume dividends were reinvested in the company's stock. That compares to 13% for Spain's Iberdrola and 17% for Italian utility Enel.
Engie contrasted its performance under Kocher with the period from 2011 to 2015, before she joined the company, when shareholder returns were negative. It acknowledged that problems with the Belgian nuclear business have weighed on earnings and shares, but said performance should improve significantly by 2021. Fears that the French government may further reduce its stake in the company has also been a negative factor for the stock price, Engie said.
"The strategy's taken more time to be implemented than investors had thought," said Guillaume Chaloin, global head of equities at Meeschaert Asset Management in Paris, which owns Engie shares . "They still have to make acquisitions in services," and the recovery "will still take time to materialize."