Hedge Fund Liquidates as Its Founder Blames OPEC for Losses
(Bloomberg) -- As uncertainty over global crude supply continues to confound oil traders, one hedge fund manager is throwing in the towel.
John Labanowski told investors that he's closing his $800 million Brenham Capital Management after two years of losses and shrinking assets. His fund was bullish on energy equities, which have plunged this year. He also blamed oil-market cycles that have become "shorter and more violent," and the "make it up as you go policy" of OPEC.
Since Brenham was started in 2012, "we've seen OPEC add supply, then refuse to cut supply, then change course and cut supply after, then add back supply and now will likely cut supply again in December," Labanowski wrote in a letter to clients.
The Organization of Petroleum Exporting Countries is set to meet next week in Vienna, where members will discuss possible production curbs in an effort to bolster prices. After posting gains through the first nine months of 2018, oil futures in New York tumbled precipitously in recent weeks, dropping more than 30 percent since their October high amid fears of a supply glut. The sell-off has dragged down energy stocks, with the S&P 500 Energy Index down 16 percent since early October.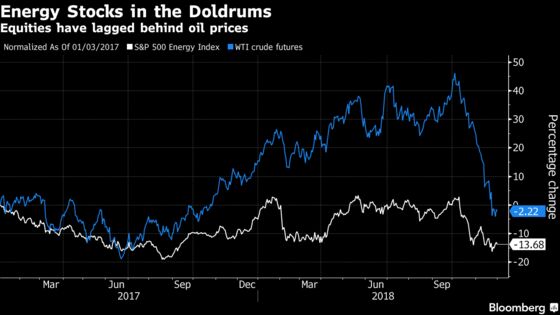 The speed and extent of oil's plunge took many in the market by surprise. As recently as early October, some industry figures were openly discussing when crude prices would surpass $100 a barrel. Nymex futures briefly dipped below $50 this week.
"I continue to witness some truly bizarre stock action in the energy sector that is hard to for me to make sense of and I'm not sure the situation will improve," Labanowski said.
Dallas-based Brenham lost 14.7 percent this year through October and dropped 10.5 percent in 2017, according to another investor letter. Its assets shrank from a peak of $1.1 billion when it stopped taking new investment in April 2016, according to the company. Brenham plans to return money to investors at the end of the year.
Dawn Blankenship, Brenham's director of investor relations, said by telephone that some members of the firm's team plan to start a new fund under the leadership of the director of research, Stephen Thomas.
Brenham's closure comes soon after the failure of Florida-based hedge fund OptionSellers.com, which lost all its clients' money after natural-gas options trades went awry. In London, Pierre Andurand, one of the oil market's last remaining hedge fund managers, lost 15.7 percent this year.
Hedge funds, both big and small and trading across a number of strategies, have struggled to navigate markets as the $3.2 trillion industry battles investor withdrawals and pressure on the high fees they charge. Highfields Capital Management, Astellon Capital Partners and Gruss Capital Management are among the funds that have said they will close in the past two months alone. The Wall Street Journal earlier reported Brenham's closing.
"Brenham's investment strategy isn't working in this environment and I'm no longer willing to risk investor capital in such a setting," Labanowski said. "Closing the fund is a bitter pill to swallow."