U.K. Won't Bail Out Failed Companies Amid Crisis: Power Update
(Bloomberg) -- The U.K. won't bail out failed companies, and the government expects to see some businesses go bankrupt in the coming weeks, Business Secretary Kwasi Kwarteng warned, as gas prices marked new records.
The government -- which held emergency talks with energy bosses through the weekend -- has been considering how to prevent chaos in the system as small, unhedged companies risk going under. It's been discussing how to help bigger companies absorb the customers of failed suppliers, with loans among options being discussed, according to people familiar with the matter. With wholesale prices at records, companies are reluctant to take on new customers without government support.
Europe is facing a gas shortage due low stockpiles following last winter, which was colder and longer than usual, and liquefied cargoes of the fuel heading to Asia. Russia has also kept a lid on supplies to the continent.
Benchmark gas contracts settled at record levels, with the U.K. contract at 189.65 pence a therm and futures in the Netherlands at 75.32 euros per megawatt hour
Companies are seeking support from the government to help them handle the cost of taking on failed suppliers' customers; Kwarteng says the U.K. won't bail out failed companies
Prime Minister Boris Johnson's office has suggested green levies on bills aren't likely to be scrapped
U.S. Energy Secretary Jennifer Granholm called for an inquiry into whether Russia is manipulating prices ahead of winter
Kwarteng Sees Tough Winter Ahead (7pm U.K.)
U.K. Business Secretary Kwasi Kwarteng warned that the country faces a "long, difficult" winter with high energy prices tipping power suppliers into bankruptcy, after three days of inconclusive talks over how to navigate the potential chaos.
Even as gas prices soared to new records, Kwarteng said the government doesn't expect any disruption to electricity or gas supplies this winter, while side-stepping the wider impacts of rising costs. But in remarks to the House of Commons, he also cautioned that some small providers are at risk. 
U.K. Faces Pig Pile-Up (5:19pm U.K.)
Staffing shortages across U.K. slaughterhouses have left pig farms crammed with 95,000 extra animals, and a looming carbon-dioxide crunch could make the problem even worse. 
Farmers are using any spare accommodations available to house the animals, from cattle barns to potato storage sheds, said Zoe Davies, chief executive officer of the National Pig Association. But the fix isn't a long-term solution and a range of factors hitting the industry at once -- from Brexit to the pandemic to shortage of the gas -- have created a "perfect storm" of bad conditions, she said.
Nick Allen, CEO of the British Meat Processors Association, told Bloomberg TV that 80% of pigs and poultry in the U.K. are slaughtered using CO2 and there is little scope to change the process for hogs as it's considered the most humane method.
Separately, Environment Secretary George Eustice is set to meet with representatives of the food retail, processing and manufacturing sectors on Tuesday, according to a person familiar with the matter.
Gas Prices May Be Higher for Longer Than Expected: Kwarteng (4:38pm U.K.)
"We have to accept the fact that these prices could be high for longer than people anticipate, just as they could fall very quickly," Kwarteng told the House of Commons, referring to natural gas. 
"There is a considerable amount of volatility in these markets and it would be rash of me to predict their course," he said. It's a misconception that the U.K. is reliant on Russian gas, Kwarteng added.
Kwarteng Says U.K. Has 'Issue' Around Gas Storage (4:10pm U.K.)
"Gas storage is definitely an issue" for the U.K., Kwarteng said, while cautioning against creating "panic" about British supplies of the fuel.
Kwarteng was responding to a question from Tory lawmaker John Redwood, who had asked if he'd talk to the industry about increasing the U.K.'s currently "tiny" gas storage capacity to act as a "buffer to smooth supplies and keep prices down." Kwarteng said he'd "hit the nail on the head" and that "clearly this is a situation that needs to be reviewed."
The opposition Labour Party's energy spokesman, Ed Miliband, earlier told Kwarteng that the issue had been raised with the government by the industry, the GMB union and the House of Commons Business, Energy and Industrial Strategy Committee after the Rough storage facility was earmarked for closure in 2017. "Isn't the government then as now far too complacent on the issue of gas storage?" he asked.
U.K. Won't Bail Out Failed Companies (3:43pm U.K.)
It's not acceptable for taxpayers to prop up companies whose business models don't work, Kwarteng told the House of Commons. 
"The government will not be bailing out failed companies," he said. "We may expect to see further companies exiting the market over the coming weeks."
It's not unusual for smaller companies to go bankrupt at this time of year ahead of contributions toward renewable subsidies, Kwarteng said. He doesn't expect an energy-supply emergency.
The U.K. government and regulator Ofgem will make a joint statement on the next steps following three days of meetings with industry.
U.K. Weighs Emergency Loans (2:43pm U.K.)
The U.K. is considering emergency loans to energy companies taking in customers from failed suppliers, according to people familiar with the matter.
Energy companies may get loans underwritten by the state at a lower costs than they would normally achieve in the market, said the people, who asked not to be identified because the talks are private. Another option under consideration would be to pool all the failed suppliers into one entity backed by the government, two of the people said.
No decision has been made, they said.
U.S. Says Russia Should Face Inquiry on Prices (2:05pm U.K.)
There needs to be an inquiry into whether Russia is manipulating gas prices ahead of winter, U.S. Department of Energy Secretary Jennifer Granholm said in an interview.
"If any entity is manipulating supply in order to make greater profit at a point where Europeans are entering into a winter, and if it's a cold winter, that needs to be looked at," Granholm said. "Companies or governments should not be manipulating prices in a way that ends up hurting people."
Food, Drink Sector Loses Two-Thirds of CO2 Supply (2pm U.K.)
The U.K.'s food and drink producers have lost two-thirds of their usual carbon-dioxide supplies, Ian Wright, head of the Food and Drink Federation, said in a statement. That's likely to hit products on store shelves and in the hospitality industry "very soon," with "sudden and unpredictable changes to availability," though there's no danger of running out of food, the group said. 
Meat Plants Could Close Within Days: BMPA (1:30pm U.K.)
Surging energy costs have led several fertilizer plants to halt output, threatening supply of CO2 -- a byproduct of fertilizer production -- which is relied on by the food industry.
"There is only one solution here, and that is that those fertilizer plants need to get up and running again," Nick Allen, CEO of the British Meat Processors Association, said on a call. Meat plants could be "anything between 5, 10 or 15 days from closure," or within eight days for poultry plants, he said.
Kwasi Kwarteng Says Energy Price Cap to Stay (12:54pm U.K.)
Kwasi Kwarteng said the U.K.'s energy price cap "protects millions of consumers" and will remain in place.
The government will ensure continuity of supply, the business secretary said in a tweet after leading a roundtable with U.K. energy companies and consumer groups. He is due to make a statement to parliament at about 3:30 p.m. local time.
Small Suppliers Seek Talks With Government (12:52pm U.K.)
The U.K. energy regulator isn't fit for purpose, 15 small energy suppliers said in an open letter, criticizing Ofgem for "turning a blind eye" as the market returns to a "selective monopoly and a reduction in competition."
The firms, who complain they've been left out of top-level discussions, requested immediate talks with the government "to discuss a support package for all suppliers" and a review of electricity charging mechanisms.
Ofgem didn't immediately respond to a request for comment.
Labour Slams 'Failure' of Government (12:50pm U.K.)
The U.K. opposition Labour Party slammed what it called a "fundamental failure of long-term government planning" that's left the country "exposed and vulnerable" to ructions in the energy market, with families and businesses left "paying the price."
"The government must take all necessary steps to ensure stability for customers and do everything in its powers to mitigate the effects of this crisis," the party's spokesman on energy, former leader Ed Miliband, said in a statement. "It is making the squeeze on household finances worse by putting up taxes for working people and cutting Universal Credit" benefit payments.
Price-Comparison Sites Warn of Higher Bills (12:47pm U.K.)
British consumers face higher bills as there's little chance of finding tariffs below the current price cap, which is set to rise next year, according to price-comparison websites MoneySuperMarket and GoCompare.
"We probably can't save you any money right now," according to a notice on GoCompare.com. "We hope we can help you save in the future -- but we don't know when that'll be."
Consumer-advocacy publication Which? said that "pressure on wholesale prices means deals at the level of the price cap may soon be among the best available." 
Johnson Suggests Green Levies to Remain (12:10pm U.K.)
Prime Minister Boris Johnson's office suggested green levies on domestic energy bills aren't likely to be scrapped, despite calls from the industry to do so. The levy "is an important part of driving our energy supply to renewables," Johnson's spokesman, Jamie Davies, told reporters on Monday.
Davies also declined three chances to rule out abolishing the energy price cap, saying only that it "remains in place." He expressed confidence in both the U.K.'s gas supplies and its food supply chain, saying "security of supply is not cause for immediate concern."
Bailout Options Won't Avert Price Hikes: Citi (11:45am U.K.)
High wholesale energy prices are likely to deliver another surge in producer prices in the "near term," battering companies already suffering supply-chain problems, analysts at Citigroup Inc. said.
"All of the bailout options being considered by the government protect against widespread failures among energy providers, but are unlikely to protect against substantial price increases for firms and households," Citi said, adding that the "key risk now is to inflation expectations."
Centrica Taking Customers of People's Energy (11:37am U.K.)
Centrica will take on the customers of People's Energy, one of a handful of smaller energy suppliers to have gone out of business in recent weeks. 
People's Energy had around 350,000 domestic customers and some 500 business clients. While the move indicates the supplier-of-last-resort system, under which well-hedged suppliers take on customers from collapsed firms, is working, it's unclear how long that will last if a wave of further failures follows.
Norway Raises Gas Output Capacity to Ease Crisis (11am U.K.)
Gas giant Norway boosted production limits at two fields, including the massive Troll development, to help ease Europe's energy crisis.
Output capacity at the Troll and Oseberg fields can increase by 1 billion cubic meters each over the 12 months starting Oct. 1 under new permits, Equinor ASA said Monday.
U.K.'s Kwarteng Meeting Energy Industry Bosses (11am U.K.)
Following emergency talks over the weekend, U.K. Business Secretary Kwasi Kwarteng is meeting industry bosses this morning.
The talks are aimed at stemming the potential chaos if more small suppliers go out of business. The focus is on helping the bigger companies take on the customers of failing suppliers, not bailing out small utilities, two people familiar with the matter said.
Among policy options, the government could shoulder some of the cost of taking on new households or lift the energy price cap so suppliers can charge more. It could also defer companies' contributions toward renewables subsidies and security-of-supply measures. 
Another option, supported by the likes of Octopus Energy Ltd., is to remove green levies from consumers' electricity bills and instead include them on gas bills. Octopus CEO Greg Jackson called for market reforms to "ensure that companies are properly run," with energy hedged for the duration of a contract.
The U.K.'s energy supply market has mushroomed to more than 50 suppliers, but not all are hedged against rising wholesale prices. The market could go back to a monopoly of just a few big companies, according to Steven Redmayne, chief operating officer of small firm Green Supplier Ltd. 
Energy regulator Ofgem has already tightened rules on what's required to set up an energy supplier; these will likely be looked at again.
U.K. Meat Producer Sees Risk of Shortages (10am U.K.)
The head of U.K. meat producer Cranswick Plc said there's a "real risk of product shortages" if the government can't avert the country's impending carbon-dioxide shortage. 
The meat industry is already reeling from staffing shortfalls at slaughterhouses as a result of Brexit and the pandemic. Coupled with the looming lack of CO2 -- used by the plants to stun pigs and poultry -- that could "effectively bring production to a halt throughout the supply chain," Chief Executive Officer Adam Couch said in a statement.
Ukraine Ammonia Producer to Halt Output (9:45am U.K.)
Ukrainian state-run ammonia producer Odeskyi Pryportovyi Plant will halt production from Sept. 22 amid soaring costs for natural gas and low prices for ammonia and urea, Deputy Chief Executive Officer Mykola Shchurikov said in a Facebook post. 
The government has repeatedly sought to sell the plant. The last time it was idle was the end of April 2018 to August 2019.
U.K. Government Seeks Hedging Data (9:40 a.m. U.K.)
The U.K. government is seeking data on energy companies' hedging positions as it tries to figure out which suppliers are able to take on the customers of failed suppliers, according to two people familiar with the situation.
The more robust companies will be asked to take on extra customers, and talks are now focused on how much the government will pay and how big the hit will be to large energy companies.
The government is determined to maintain price caps, according to one person familiar with the situation.
Green Says It May Not Survive Winter (8:30 a.m. U.K.)
Green, a small energy supplier, said it may not survive the winter without government help.
"Without any support methods being put in place from the government, it's unlikely that we will see the winter through," Chief Executive Officer Peter McGirr told the BBC.
The company serves more than 250,000 households.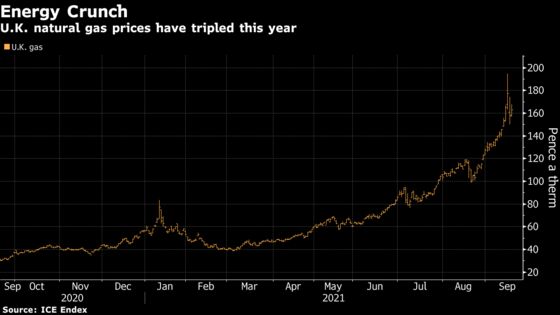 Bills Seen Jumping 400 Pounds (8:20 a.m. U.K.)
RBC estimates that bills could jump as much as 400 pounds ($547) a year because of surging prices.
"Electricity suppliers are now facing critical pressure against rising commodity prices," RBC said in a note. "We see heightened risk for smaller, less well hedged energy suppliers to face bankruptcy in the event of this crisis, but we are mixed on if this presents a positive longer-term opportunity for larger energy suppliers in the U.K. such as Centrica."