Endocyte's $2.1 Billion Deal Rewards Investors Who Stuck It Out
(Bloomberg) -- Loyal investors who stuck with Endocyte Inc. during a three-and-a-half year slump are celebrating today after a Novartis AG buyout offer sent shares of the cancer drug biotech soaring. But those who lost patience in Endocyte are left to wonder what might have been.
Endocyte rallied more than 1,600 percent in the past 13 months as it advanced its prostate drug candidate -- climaxing on Thursday as Novartis splashed out $2.1 billion on a friendly buyout. The deal came at a 54 percent premium to Wednesday's close and rewarded a group of sector specialist funds that made big bets on Endocyte, a small Indiana-based drugmaker that's faced down concern its drug might not be ready for prime time.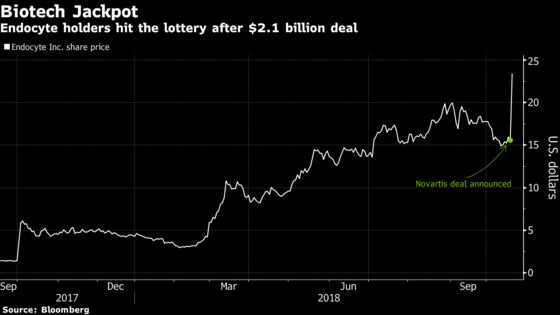 The biggest winner was apparently VenBio Select Advisor LLC, known for making bets across the drug discovery landscape and the largest holder with more than 7 percent of Endocyte as of the latest filing period ended June 30. VenBio bought its entire position only in the first quarter, when Endocyte sold for between $3 and $11, according to Bloomberg data. Novartis offered $24 a share for Endocyte today.
Boston-based RA Capital Management bought almost an additional 1.8 million shares in the second quarter, and was the second-largest Endocyte holder as of June 30, filings show.
The value of VenBio and RA Capital's most recent positions, as reported to the SEC for the second quarter, each rose to about $132 million at Endocyte's peak on Thursday.
VenBio and RA Capital didn't immediately respond to requests for comment.
Firms including Ghost Tree Capital LLC and D.E. Shaw may have been less lucky. Ghost Tree sold more than one million shares in the second quarter, Bloomberg data show, potentially causing it to miss out on a payday today of about $9 million. D.E. Shaw sold almost one million shares in the second quarter, according to its 13F.
One positive for Ghost Tree is that it held on to a 500,000-share stake as of June 30, while D.E. Shaw kept 677,000 shares, Bloomberg data show. Ghost Tree declined comment and D.E. Shaw didn't immediately respond to a request for comment.
Endocyte makes cancer drugs that pair tumor-killing radiation with molecules that target diseased cells. Novartis, which also bought gene therapy play AveXis Inc. for $8.7 billion in May, believes Endocyte has blockbuster potential. The company's lead therapy, known as Lu-PSMA-617, has made it through the medical research gauntlet to advance to final-stage testing in men with prostate cancer who have limited treatment options. Novartis believes the medicine may reach the market in 2021.