Ari Emanuel's Endeavor Rises in Debut After $511 Million IPO
(Bloomberg) -- Endeavor Group Holdings Inc., the Hollywood entertainment and talent company, climbed 5% in its trading debut after raising $511 million in a U.S. initial public offering.
The shares, which sold for $24 each in the IPO and rose as much as 19% Thursday, closed at $25.20.
The successful offering delivers a movie-style redemption ending for Endeavor and its leader, the veteran mogul Ari Emanuel, after an earlier attempt to go public was scuttled in 2019.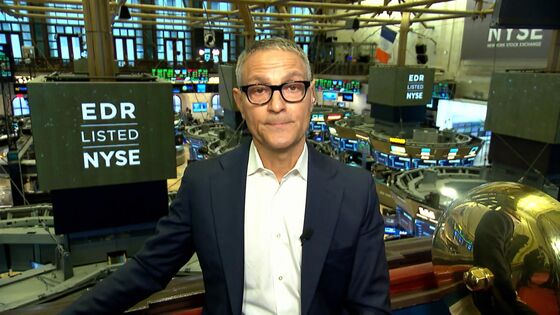 "The bottom fell out of the market, you had the WeWork debacle back then, and we weren't getting the economics we deserved," Emanuel said in a Bloomberg Television interview.
He said Endeavor is well positioned as the entertainment industry comes back to life after coronavirus pandemic shutdowns.
"We touch all the areas of where the world is going right now," Emanuel said of the company's streaming, arts, fashion, sports and music offerings.
Endeavor also is raising $1.8 billion from institutional investors in a private placement of shares, according the company's filings with the U.S. Securities and Exchange Commission. Investors participating in the placement include KKR & Co., Coatue Management, Elliott Investment Management and Endeavor's longtime backer Silver Lake, the company said in filings.
Endeavor owns the UFC sports league, and operates events and talent businesses. It will use part of the proceeds from the IPO and private placement to buy shares from UFC holders.
The company has come a long way since a humble start with no clients and no revenue in 1995. Emanuel enlisted colleagues from the ICM agency to start the new venture -- and quickly started building a reputation for business savvy and volcanic antics.
Emanuel, now 60, may be best known to the general public as the model for Jeremy Piven's brash superagent character Ari Gold in HBO's "Entourage." He's also the youngest of three prominent brothers -- Rahm Emanuel has been a White House chief of staff and mayor of Chicago, and Ezekiel "Zeke" Emanuel is a medical ethicist and adviser to President Joe Biden.
But in Hollywood, Emanuel is known for frenetic dealmaking and a hot temper. With his main partner, Patrick Whitesell, he expanded Endeavor through a series of acquisitions, among them the 2009 takeover of venerable agency William Morris. Endeavor launched a content business in 2017, seeking to move beyond representation into creating projects.
Emanuel has also torn a path through Hollywood with his outsize personality, which has both won him numerous deals and cost him friends and associates. The intense culture at Endeavor in the early 2000s led to a wrongful-termination suit that accused the company of sexual harassment and was settled for $2.25 million, according to the Los Angeles Times.
The company will have five classes of stock and Emanuel will have 17% of the voting power after the offering. Silver Lake will control more than 68% of the voting power, Endeavor said.
On a pro forma basis, Endeavor had a net loss of about $992 million on revenue of $3.48 billion in 2020, according to its filings.
The current offering was led by Morgan Stanley, Goldman Sachs Group Inc., JPMorgan Chase & Co. and Deutsche Bank AG. Endeavor's shares are trading on the New York Stock Exchange under the symbol EDR.